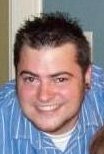 Brian Crowley
unknown - January 25, 2012
Brian Patrick Crowley passed away on Wednesday, Jan. 25, 2012. He was born Aug. 3, 1985, to the proud parents of Brian Joseph Crowley and Tina Ann Wilkins. Brian was a 2004 graduate of Bishop Ludden High School. He attended SUNY Morrisville and was employed at Alto Cinco in Syracuse.
Brian was an avid hockey player whose love for the game began at the age of 8 at MYHA and continued on to play for Solvay Bearcats. Brian cherished every moment with his family and friends. Brian's natural ability to light up any room will be carried on by those who love him. Brian was led home to heaven by his father Brian J. Crowley with family waiting with open arms.
Brian is survived by his adoring mother, his stepfather Bill Rattray Jr., his "brudders" William F. and Benjamin D. Rattray, sister Corrine Rattray. His paternal grandparents Charles and Mary Crowley, paternal grandmother Gretchen Crowley, maternal grandmother Joan Wilkins. Uncles; Timothy Crowley and family, Kevin Crowley and family, James Wilkins Jr., and family. Aunts; Terri Wilkins and daughters, Ellen Crowley and family. His beloved dogs, Karma and Taj and countless friends he considered family.
Calling hours will be Tuesday, from 4:00 to 7:00 PM, at Whelan Bros. & Hulchanski Funeral Home, 5854 Belle Isle Road, Syracuse, NY, 13209.
Mass of Christian burial: 11 a.m. Wednesday, Feb. 1, at Holy Family Church, 127 Chapel Drive, Syracuse, NY 13219. Burial will be private.
In lieu of flowers, contributions can be made in Brian's name to the CNYSPCA, 5878 E. Molloy Road, Syracuse, NY 13211, or Midstate Youth Hockey Association (MYHA) c/o of Phil Zollo, 906 Spencer St., Suite 102, Syracuse, NY 13204.