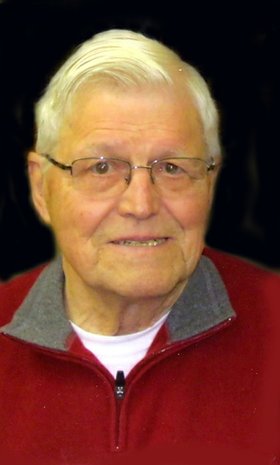 John Coyne
unknown - December 27, 2012
John "Jack" Frederick Coyne, 86, of Baldwinsville passed away Thursday, Dec. 27, 2012, at home. Born in Syracuse on Wednesday, July 28, 1926, he was the son of John Andrew Coyne and Anne Burgun Coyne. A lifetime resident of the Syracuse area, he was a 1944 graduate of St. Patrick's School and Navy veteran of WWII.
Jack retired in 1985 from Verizon after 37 years. He was a member of the Camillus Elks #2367, American Legion Knifetown Post 1540 and Verizon Pioneers. He was also a communicant of St. Augustine's Church in Baldwinsville and enjoyed bowling, golf and traveling.
Jack was predeceased by his first wife, Margaret Farrell Coyne, on March 28, 1982.
Surviving are his second wife of 30 years, Mary Jane Lloyd Coyne; children, Steve Lloyd (Kim) of Marietta, Scott Lloyd (Terry) of Jamesville, Robert (Marcella) Coyne of Virginia, Nancy (Rob) Flaherty of Illinois and Janice (Tim) Frear of Arizona; grandchildren, Eric, Matthew, Braeden, Brooke and Dana; great-granddaughter, Kali Mae; several nieces, nephews and cousins; and special people, Jody of Pennsylvania and Molly of Syracuse.
Relatives and friends called Monday, December 31 from 9 to 10 a.m. at St. Augustine's Church in Baldwinsville. A funeral Mass followed at 10 a.m. with Rev. Tom Servatius officiating. Jack was laid to rest in the Onondaga County Veterans Memorial Cemetery, Syracuse. Arrangements were by the Buranich Funeral Home, Camillus.
In lieu of flowers, contributions may be made to Camillus Elks, P.O. Box 396, Camillus, NY 13031, St. Augustine's Church, 7333 O'Brien Rd., Baldwinsville, NY 13027 or to American Legion, Knifetown Post 1540, 111 Forsythe St., Camillus, NY 13031.