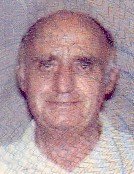 Howard W. Bronson
unknown - December 27, 2012
Howard W. Bronson, 77, of Skaneateles, died Thursday, Dec. 27, 2012. Born in Auburn, he retired from Stott and Davis Trucking. He was a member of the Mottville Volunteer Fire Co. and the Valentine Meyer American Legion Post 317 in Skaneateles Falls. He was predeceased by his wife Rita in 1985.
Surviving are his twin brother, Harold, stepsons William (Shirley) Moss, Michael (Phillip) Moss, Donald (Honey) Moss, Thomas Neilson and Richard (Cathy) Neilson, nephews Sean Rafferty and Charles Bronson, and several grand and great-grandchildren.
Services: Monday, Dec. 31 at the Robert D. Gray Funeral Home, Skaneateles. Burial was in Lake View Cemetery, Skaneateles. Contributions may be made to Valentine Meyer American Legion Post 317. To send condolences visit: robertdgrayfuneralhome.com.