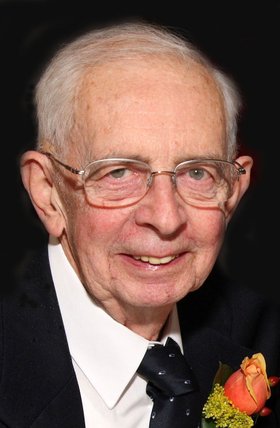 George Mayer
unknown - December 25, 2012
George Mayer, 85, of Camillus, joined Jesus for his birthday celebration on Christmas Day, Dec. 25, 2012. His loving wife of 62 years, Gloria (Klein) Mayer was by his side. Born in Buffalo on Tuesday, March 8, 1927, he was the son of Raymond H. Mayer and Clara A. (Goerner) Mayer.
George lived in Ithaca for most of his life and attended Syracuse University until 1944 when he was called to serve his country during WWII. He was an electrical engineer for 42 years for New York State Electric & Gas. George was a member of St. Luke's Episcopal Church. He loved camping with his family in the Adirondacks, Myrtle Beach, South Carolina and Florida. He was also an avid golfer, excellent euchre player and bowler.
George was predeceased by his sister, Norma Phillips; brother, Paul Mayer; and son-in-law, Larry Moffett.
Surviving in addition to his wife, are his daughters, Carol (Bruce Reaves) Mayer of Gibsonville, North Carolina, Susan Mayer of Camillus, Elaine Moffett of Lafayette, Colorado, and Linda (Dean) Ellinwood of Marcellus; grandchildren, Andrew Cady, Danielle Byrd, David and Tina Moffett, and Scott and Mark Ellinwood; great-grandchildren, Ryan, Madison and Drake; and nieces and nephews.
Relatives and friends called from 1 to 3 p.m. Sunday, Dec. 30 at the Buranich Funeral Home, 5431 W. Genesee St., Camillus. Services were at 1 p.m. Monday in St. Luke's Episcopal Church, 5402 W. Genesee St., Camillus with the Very Rev. Craig R. Swan officiating.
In lieu of flowers, contributions may be made to the Alzheimer's Association of CNY, 441 W. Kirkpatrick St., Syracuse, NY 13204. Please share condolences at buranichfuneralhome.com.