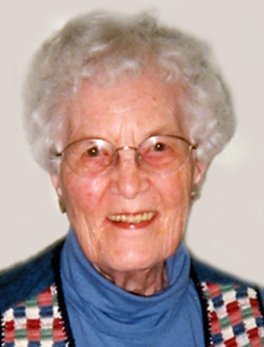 Ruth Bishop
unknown - November 30, 2012
Ruth Carlton Bishop, 97, formerly of Camillus, passed away Friday, Nov. 30, 2012 at Crouse Hospital. She was a resident of Springside at Seneca Hill in Oswego. Born in Ithaca on Sunday, July 25, 1915, she was the daughter of Carrie Elizabeth Lamb Carlton and Merritt Scott Carlton. She spent her early years in Poultney, Vt, and lived in the Syracuse and Camillus area for more than 60 years.
A graduate of Troy Conference Academy in Poultney and a 1936 graduate of Syracuse City Normal School, Ruth also earned additional credits from OCC and SUNY Oswego. She taught in the Tully Central School District, Syracuse City School District and West Genesee Central School District, where she retired in 1973 after 20 years.
A communicant of St. Luke's Episcopal Church in Camillus, Ruth was active in its education and music ministries. She served as chairman of the CNY Area of Washington National Cathedral Assn. She was also a former member of the Camillus Historical Society, NYS Retired Teachers' Assn., Onondaga Hill Antiques Club and Camillus Erie Canal Restoration Project.
Ruth was predeceased by her husband, Marshall Howe Bishop, who died June 23, 2001.
Surviving are her son, M. Alan Bishop of Brazil and Sebastian, Florida; daughters, Karen Bishop of Brooklyn and Barbara S. Salvagin of Hannibal; eight grandchildren; six great-grandchildren; and cousins, Bruce Angle of Camillus and Jean Denton of West Hartford, Connecticut.
A memorial service was held at 11 a.m. Saturday, Dec. 15 in St. Luke's Episcopal Church with the Very Rev. Craig R. Swan officiating. Burial was at Greenlawn Cemetery in Warners at the convenience of the family. There were no calling hours. Arrangements were by the Buranich Funeral Home, Camillus.
Contributions may be made in Ruth's memory to St. Luke's Episcopal Church Memorial Fund, 5402 W. Genesee St., Camillus, NY 13031 or to Camillus Canal Society Inc., 109 East Way, Camillus, NY 13031. Please share condolences at buranichfuneralhome.com.