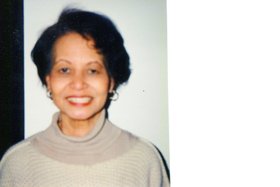 Erlinda B. Arrayan
unknown - December 14, 2012
Erlinda B. Arrayan, 77, of Baldwinsville, passed away Friday Dec. 14, 2012. She was born in Manila, Philippines. Her husband of 40 years, Roy R. Arrayan died Dec. 14, 2002.
Her greatest joy in life was spending time with her cherished family, friends and the New York Yankees.
Surviving to cherish her memory are her daughter Rochelle E. French (Jeffrey Lucia), sons, Roland E. Arrayan (Arlene) of Minot, ND, Randall E. Arrayan of the Philippines, grandchildren, Rhea, Alex, Cameryn and Cole, brothers, Leonardo S. and Eduardo S. Bahia both of the Philippines, sister, Fleur B. Tabije of Queens, NY, several nieces and nephews.
Calling hours: 4-7 p.m. Wednesday, Dec. 19, at the Maurer Funeral Home Moyers Corners, 3541 State Route 31, Baldwinsville. Mass of Christian burial: 9:30 a.m. Thursday, Dec. 20 in St. Mary's Church, 47 Syracuse St., Baldwinsville. Contributions may be made to St. Jude Children's Hospital, 262 Danny Thomas Way, Memphis, TN 38105.