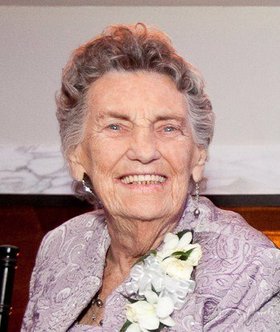 Elizabeth Westcott
unknown - December 5, 2012
Elizabeth Jeanne Crawford Westcott, 88, of Stuart, Fla., formerly of Syracuse, died Dec. 5, 2012 at Martin Memorial Hospital after a very brief illness. Daughter of Florence A. and Robert J. Crawford of Auburn, Elizabeth "Jeanne" graduated from East High School and then moved to New York City to work for Western Union. She later returned to Auburn and worked for New York Telephone Company, where she met her future husband, Ross P. Westcott. She and Ross were loyal communicants of St. Francis Xavier Church in Marcellus for many years. Jeanne was gifted at many things, including sewing and knitting and had an incredible sense of fashion. She was an avid reader and had an insatiable quest for knowledge, as evidenced by her proficiency with her computer and her iPhone, allowing her to keep up with her widespread loved ones. She was recently honored by her community, Allegro Senior Living, by being selected to serve as Ambassador. In this role, Jeanne enjoyed volunteering her time by welcoming new residents.
She was predeceased by Ross, her adoring husband of 61 years, in May of this year, as well as her parents, sisters Nancy Morabito and Barbara Parker and brother Robert J. Crawford.
Jeanne is survived by her loving children, Patricia Carranti (Frederick) of Manlius, James Westcott (Linda) of Palm City, FL, Nancy Shaver (Thomas) of Chesterfield, Va., and Robert Westcott of Marcellus; eight beloved grandchildren; 10 cherished great-grandchildren; dear sisters Doris Mitchell and Marilyn Smith; and 19 loving nieces and nephews.
Mass of Christian burial: 9 a.m. Monday, Dec. 10 in St. Francis Xavier Church, 1 West Main St., Marcellus. Interment was at St. Joseph's Cemetery, Fleming, N.Y. Calling hours: 1 to 4 p.m. on Sunday, Dec. 9 at Ryan Funeral Home, 44 E. Main St., Marcellus. In lieu of flowers, contributions in memory of Mrs. Westcott may be made to the Rescue Mission, PO Box 11122, Syracuse, NY 13218-9903 or online at rmsyr.org.