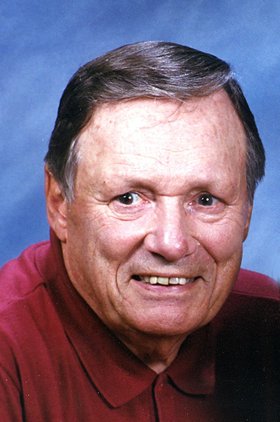 William Hastings
unknown - December 3, 2012
William Louis "Bill" Hastings, 86, of Camillus, passed away Monday, Dec. 3, 2012 at Crouse Hospital after a brief illness. Born on Wednesday, July 21, 1926 in Rochester, he was the son of Ruth Yauchzi and William J. Hastings.
Bill was a graduate of the Allendale School for Boys in Rochester and Lycoming College in Williamsport, Pennsylvania. While at Lycoming, he studied biology and played football. He served in the Marine Corps during the Korean War. In 1987, he retired after 32 years as a pharmaceutical sales representative with the Wyeth/Pfizer Pharmaceutical Co.
In his later years, Bill was a frequent volunteer at the Erie Canal Park, and for several years, he and his wife, Bonnie, coordinated the popular summer dinner cruises at the park. Throughout his life, he shared his talent for telling stories and making people laugh.
Bill was predeceased by his parents, William and Ruth Hastings; and daughters, Laine Karen Hastings in 1962 and Tammara Kay Hastings Hachey in 2009.
Surviving are his wife of 52 years, the former Bonnie Swarthout; son and daughter-in-law, William N. and Amy Hastings of Camillus; sisters and brothers-in-law, Sally and Don Schindler of Pittsford, and Judy and Alan Strenzwilk of Fairport; brother and sister-in-law, Robert and Mary Hastings of Pittsford; son-in-law, Michael Hachey of Guilderland; grandsons, Sean Hachey of Albany and Derek Hachey of Gloversville; and several nieces and nephews.
Relatives and friends called from 4 to 6 p.m. Thursday, Dec. 6 at the Buranich Funeral Home, 5431 W. Genesee St., Camillus. Services followed at 6 p.m. with Deacon Thomas Hachey officiating. Contributions may be made in Bill's name to W.A.V.E.S, 202 Bennett Rd., Camillus, NY 13031 or to Salvation Army, P.O. Box 6229, Syracuse, NY 13217. Please share condolences at buranichfuneralhome.com.