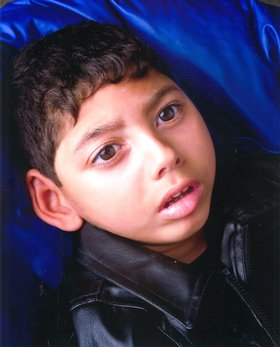 James Holmes, Jr.
unknown - December 1, 2012
James "Jimmy" Elliott Holmes, Jr., 10, of Syracuse, passed away Saturday, Dec. 1, 2012 at Golisano Children's Hospital. Born in Rochester on Monday, Feb. 25, 2002, he was a lifetime resident of the Syracuse area. and was affectionately known as "Jimmers" or "Jimmer Jammers."
Aside from being a sweet little boy, Jimmy was a teacher. He taught everyone whom he came in contact with about unconditional love and compassion. He taught his family to take time to stop and smell the roses and appreciate the little things life has to offer. So many things that most people take for granted brought great joy to his family. These included the first time he lifted his head up, the first time he ate from a spoon, the first time he gripped a rattle, the first time he took a step in a walker and the first time he used a computer.
Jimmy was a fifth grader at BOCES TEAM Program at Solvay Middle School. Considered a pioneer in the world of assistive technology, his "switch-adapted" use of an iPad was the first assistive technology of its kind in Central New York. In seeing what Jimmy had accomplished using this technology, the BOCES Administration invited him to present at the 2012 Assistive Technology Fair where he and his mother demonstrated how to control an iPad with a Smart Board, something never before done in the U.S.
An avid sports fan, Jimmy loved to watch football with his daddy on Sundays and was at the sidelines with his mommy for all of his sister Jessica's soccer games. He was the team's biggest fan. He always wore his ram hat and the same color the team wore...red. The anticipated pre-game ritual always included his sister showering him with kisses. He knew joy!
While sharing in his sister's chase of a dream to one day play in the Olympics, in 2010, he won first place in the Assisted Wheelchair Race at the Special Olympics in North Syracuse.
Jimmy treasured happiness. He regularly found happiness in the simple moments of life…listening to Mommy's song, watching football with Daddy, playing with Jessica. He especially enjoyed her duck noises and Sponge Bob imitations. He relished spending every holiday with his entire family…Mommy, Daddy, Jess, Amanda and Kaela.
Jimmy's life was full of adventure. A well-seasoned traveler, he was able to take in sites such as the Inner Harbor and the Thousand Islands where he experienced camping. During his Make-A-Wish Trip to Walt Disney World, Sea World and Universal Studios, he was "King for a Week."
Surviving are his parents, Sue Ellen and James Holmes Sr.; sister, Jessica Renee Holmes of Syracuse; stepsisters, Amanda Holmes and Kaela Holmes, both of Syracuse; paternal grandmother, Jessie Williams of Syracuse; paternal grandfather, Willie Holmes of Evansville, Indiana; maternal grandmother, Muriel Springstead of Skaneateles; maternal step-grandfather, Leland Springstead of Skaneateles; maternal grandfather, Timothy Van Camp Sr. of Marcellus; maternal step-grandmother, Colleen Van Camp of Marcellus; paternal great-grandfather, Jimmy Bristow of Syracuse; maternal great-grandmother, Evelyn Van Camp of Marietta; many aunts and uncles; several cousins and one nephew.
Relatives and friends called from 4 to 7 p.m. Tuesday, Dec. 4 at the Buranich Funeral Home, 5431 W. Genesee St., Camillus. Rev. Peter Worn celebrated a funeral Mass at 10:30 a.m. Wednesday, December 5 in St. Joseph's Church. Jimmy was laid to rest in Woodlawn Cemetery.
In lieu of flowers, contributions may be made to CHOICES Pediatric Palliative Care Program, Golisano Children's Hospital, 750 E. Adams St., Syracuse, NY 13210. Please view the Holmes Family Video Tribute and share condolences at buranichfuneralhome.com.