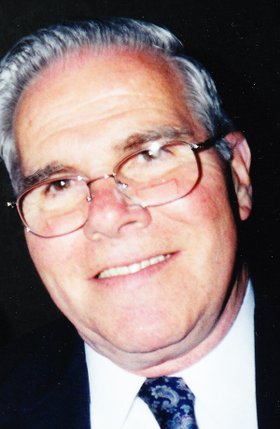 Thomas G. Colling
unknown - August 27, 2012
Thomas G. "Gerry" Colling, 80, of Liverpool passed away on Monday, Aug. 27, 2012, at his home. He was born in Chicago, IL, a son of the late Peter and Elizabeth (Simon) Colling, where he was raised and educated. Mr. Colling started his career with the Deluxe Corporation in Chicago, before enlisting in the United States Air Force. After serving his country, along with his family, Mr. Colling relocated to Liverpool in 1964. Thomas was instrumental in the opening of the Deluxe Corporation plant in Syracuse. He retired in 1993 as a manager after 43 years of dedicated employment. Gerry served as a past board member for the Pioneers Center and Birthright in Syracuse. He was a member of Syracuse Right to Life since its inception serving as area representative for NYS Right to Life Association and the American Legion Liverpool Post No. 188. Mr. Colling was a parishioner of Christ the King Church in Liverpool and active in their Respect Life Committee. Gerry, along with his wife, opened their home for the care of newborns when Catholic Charities had a need for foster homes. He is predeceased by two sisters; Mary Long and Margaret Barr.
Surviving to cherish his memory is his wife of 61 years; Mary "Barbara" (Bruno) Colling of Liverpool, five sons; Edward (Patricia) Colling of Syracuse, Paul T. Colling of Florida, James A. (Patrice) Colling of Spafford, N.Y., Robert P. Colling, and John F. (Joy) Colling both of Liverpool, two daughters; Mary (Russ) Kulle of Texas, Gloria G. Colling of North Syracuse, brother, John P. (Patricia) Colling of Florida, 17 grandchildren, 11 great-grandchildren and many nieces and nephews.
Funeral services: 9:15 a.m. Friday, Aug. 31 from the Maurer Funeral Home Moyers Corners, 3541 Route 31 Baldwinsville, and 10 a.m. in Christ of King Church, 21 Cherry Tree Circle, Liverpool with a mass of Christian burial celebrated. Rite of committal and burial follows in Our Lady of Peace Cemetery, Baldwinsville. Calling hours: 4 to 7 p.m. Thursday, Aug. 30 at the funeral home. Contributions can be made to Syracuse Right to Life, EWTN or Food for the Poor.