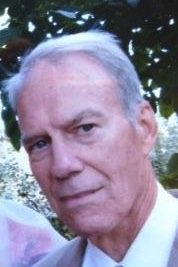 Martin Titcomb
July 21, 1934 - August 18, 2012
Beloved husband, father, and grandfather, Martin McKown Titcomb, known as Marty, died on Saturday, Aug. 18, 2012, surrounded by family and caretakers, following an eight-year battle with Parkinson's and Lewy Bodies diseases. He was 78 years old.
Born on July 21, 1934, to Helen McKown and G. Sheldon Titcomb, Marty grew up in Baldwinsville, where his father owned the oldest "5 & 10 Cent" General Department store. He studied European History at Colgate and the University of North Carolina, and earned his J.D. from the University of California Hastings School of Law in 1965. He was admitted to both the California and New York State Bars.
From 1957 to 1959, Marty served in the United States military in Germany. He remained there as a journalist for a few years, enjoying the adventure of living abroad. When he returned to the United States, he worked as attorney for the City of New York, and found his lifelong partner, Lydia Mattar, whom he married in 1967.
Marty and Lydia moved to San Francisco in 1971. An avid bibliophile and active outdoorsman, he relished the intellectual atmosphere and scenic beauty of his new environs.
In the late 1970s Marty opened his own law practice specializing in protecting patients' rights. He represented clients in dental, medical and legal malpractice cases. A champion of the disadvantaged, Marty devoted his legal career to helping those who had suffered the painful consequences of negligent treatment. In recognition of his integrity and accomplishment, the Knights of Malta knighted him in 1985.
A modern Renaissance man, Marty possessed many talents well beyond his work. He was a consummate athlete who enjoyed running up Mt. Tamalpais, playing baseball, tennis and basketball, and taking evening swims at Ocean Beach. Endowed with inimitable personal charm, he made friends with rare ease and wry humor. They will remember him for his encyclopedic knowledge of history, dry wit, winning smile and unbridled curiosity.
Marty is survived by his wife Lydia, his daughters, Rema Marie Breall and Rose Titcomb, his grandchildren, Maximilian Sheldon Breall, Alessandra Marie Breall, Gabrielle Rose Franklin and William Solomon Titcomb Franklin, as well as his sister Clarina Sidell and numerous cousins, nieces and nephews.
Memorial: 4 p.m. Saturday, Oct. 6, at Calvary Church, 2515 Fillmore St., San Francisco, California 94115.
The family extends deeply heartfelt thanks to Marty's care providers at Cristina's Care Home, the staff of Pathways Hospice, and his doctors at UCSF.
In lieu of flowers, memorial donations may be made in Martin Titcomb's name to: UCSF Parkinson's Disease Center, 505 Parnassus Avenue, Room 798-M, Box 0114, San Francisco, CA 94143-0114.