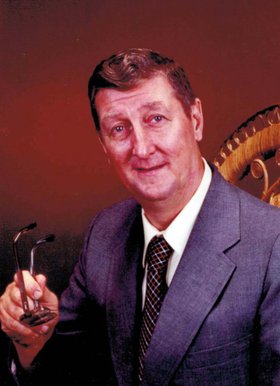 George J. Bushnell
unknown - August 28, 2012
George J. Bushnell, 82, passed away peacefully at University Hospital on Tuesday, Aug. 28, 2012, following a courageous battle with cancer. He was a lifelong resident of Syracuse and attended Syracuse Schools. He worked at GM's Fisher Body plant for 36 years and was a Local 854 UAW member. He was a communicant of St. Rose of Lima Church.
He loved the Central New York area and enjoyed fishing and camping. He had a special talent for building and fixing things, as our own "Mr. Fixit".
George was dearly loved by his family and friends. He was a very likeable man who loved to tell jokes.
George was predeceased by his first wife, the former Rose Gardner, by his parents and by all of his siblings.
Surviving are his current wife, Elizabeth Mueller Muldoon Bushnell and his seven children, Michael Bushnell, Patricia (Donald) Adsitt, Marjorie Bushnell, Lawrence Bushnell, Barbara (Scott) Rotella, Thomas Bushnell and Mary Beth (Albert) DeJohn as well as four stepchildren, Raymond (Joyce) Muldoon, John (Katherine) Muldoon, Kathleen (Stephen) Burch and Michael (Maria) Muldoon; 22 grandchildren; three great-grandchildren and several nieces and nephews.
Calling hours: 2 to 4 and 6 to 8 p.m. Thursday, Aug. 30, at Fergerson Funeral Home, 215 South Main St., North Syracuse. Mass of Christian burial: 10 a.m. Friday, Aug. 31 at St. Rose of Lima Church. Private burial will be at the convenience of the family.
Donations may be made, in lieu of flowers, to either St. Rose of Lima Church, 409 S. Main St, N. Syracuse 13212 or earmarked for "Upstate Cancer Center Campaign", Foundation for Upstate Medical University, 750 E. Adams St., CAB 326, Syracuse 13210.
The family wishes to thank Dr. Ajeet Gajra and his staff of the Hematology /Oncology Department as well as Dr. Jack M. Hsu at Upstate. Memorial messages may be left at FergersonFuneralHome.com.