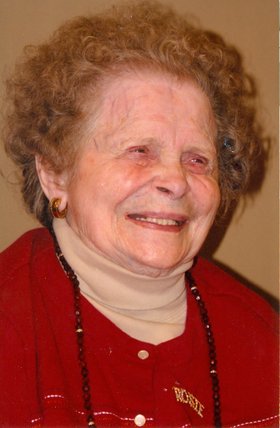 Rosa F. Langenstein
unknown - August 17, 2012
Rosa "Rosie" F. Langenstein, 91, passed away peacefully on Friday, Aug. 17, 2012, surrounded by family and friends at Syracuse Home in Baldwinsville.
Rosie was born in Laufach, Germany, on June 16, 1921, immigrated to the U.S. in 1955. She lived and continued to work as a seamstress in Ridgewood, N.Y., until moving to the Syracuse area 10 years ago.
Rosie is survived by her daughter, Evelyn Langenstein of Fayetteville; two nieces and a nephew, Astrid, Birgit and Volker and families; and a brother-in-law, Robert Stein all of Germany. She was predeceased by her sister, Helma Stein.
A sincere and heartfelt thank you to everyone at the Syracuse Home, you are all very special.
Services will be 10:15 am Wednesday at Eaton-Tubbs Fayetteville Chapel and 11:00 am at St. Matthew's Church in East Syracuse. Family and friends may call from 4:00 to 7:00 pm Tuesday at the funeral home, 7191 E. Genesee St., Fayetteville. For directions, florists, or a guestbook, please visit scheppfamily.com.
Contributions: may be made to Syracuse Home, 7740 Meigs Rd., Baldwinsville, NY 13027 or St. Francis Social Adult Day Care Inc., 81108 Court St., Syracuse, NY 13208.