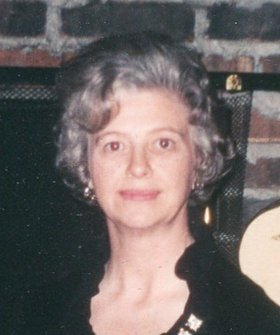 Doris E. Ingham
unknown - August 16, 2012
Doris E. (Jones) Ingham, 86, of Baldwinsville and Murray Isle, Thousand Islands, N.Y., went home to be with her Lord on Thursday, Aug. 16, 2012, after a brief illness. She was born on Nov. 28, 1925, to the late Gertrude P. and Warren L. Jones in Rome, N.Y. Doris was a devoted wife, mother, grandmother, great-grand mother and friend.
Her many enjoyments included reading, caring for her grandchildren, avid bird watching, and spending time with her family at their cottage on Murray Isle in the beautiful Thousand Islands. She spent a lifetime of summers on the mighty St. Lawrence, and cherished many memories of time shared with family and friends.
As an active and faithful member of The First Baptist Church of Baldwinsville for 50 years, Doris served the Lord by volunteering on various committees. They were the Board of Deacons (most notably as Chair of Watchcare), the Sunshine Committee, Christian Education, Builders, and the originator of Mother's Morning Out, caring for newborns and infants of busy mothers.
Doris is survived by her loving and devoted husband of 65 years, Thomas L. Ingham; her children, Cathy L. (Dr. Lawrence) Peltz of Santa Rosa, California, Pamela J. (Dr. Douglas) Cooper of Angwin, California, Nancy I. (Jason) White of Baldwinsville, N.Y., and Cynthia A. (Len) Woods of Baldwinsville, N.Y.; eight grandchildren, Jennifer (Bill) Barrois, Dr. Aaron (Laura) Peltz, Cory Peltz, Vanessa Cooper, Danny Cooper, Kathryn Hess, Sean (Alison) Woods, and Taylor Woods; three great-grandchildren, Shelby Barrois, Evan Peltz, and Lily Peltz; her sister, Marilyn J. Quinby, sister-in-law Margaret Jones, and many nieces and nephews. Her parents, a brother, Warren L. Jones, Jr. and brother-in-law, Ernest P. Quinby precede her in death.
Doris will be remembered by all who knew her for her faith, strength, generosity, compassion and loving kindness.
The family would like to thank all of the caregivers for the time, attention and love given to Doris in her final days. Many thanks, as well, to the caring and loving neighbors and friends at McHarrie Towne.
A private committal graveside service for family and friends will be held at a later date.
Donations may be made to The First Baptist Church of Baldwinsville, N.Y., Compassion International, or Hospice of CNY.