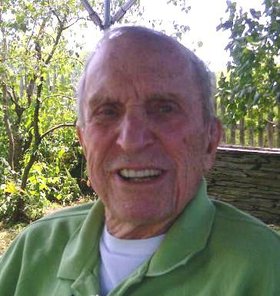 Donald Sauer
unknown - August 1, 2012
Donald Harrington Sauer died peacefully on Aug. 1, 2012, in the presence of his family. Peaceful wasn't the case on Sept. 23, 1923, the day of his birth. His mother was so excited after delivering a bouncing baby boy at their farmhouse in Toad Harbor (West Monroe, N.Y.) that all she could say was "Pa, the slop for the pigs is behind the kitchen door!" His parents, Harold and Isabelle, were widely known in Toad Harbor as fun and entertaining to visit. Don spent his first 17 years working on the family farm and going to school where he learned the value of hard work and a good education. Either by genetics or by osmosis, Don acquired a tremendous and unique sense of humor.
After graduating from Central Square High School, Don did a few semesters at Syracuse University until he was old enough to enlist. He became a B-17 test pilot in the Army Air Corp. After the war he joined the Air Force Reserves and retired with the rank of Major. He also finished his education at Cornell University and received a Bachelor of Science degree in civil engineering in 1947. Later he became a registered engineer and licensed land surveyor in New York state.
Shortly after graduation he married June Behrens from Jamaica Estates, N.Y. They loved each other dearly. After 65 years of marriage they could still be seen holding hands when sitting and watching television. Within a few short years the young married couple became the parents of two children, Patricia and Scott. Don instilled his values of honesty, education, and humor in his children.
Don was a master at turning a relatively simple task into an entertaining venture. He demonstrated to his daughter how to climb a tree to find his whereabouts while surveying. He then showed her how to fall out of a tree! Despite several abrasions and contusions he showed her how to find her way back to the truck without uttering any inappropriate phrases. Don often showed his son how to take a nice straight piece of fishing line and in one cast make a nest that a giant condor would be proud to call home. Camping was one activity that the kids particularly enjoyed with their father. It was always fun for them to hear the familiar phrases "I thought I put the sleeping bags and mosquito spray in the car" as it was usually starting to rain.
Don was vice president of the C.D. Murray Company where he started as a field engineer and then became a superintendent for most of his career. Under his guidance many bridges, roads, dams and reservoirs were built throughout central New York State. He enjoyed the challenge of his job and his sense of humor was a great asset in communicating with his men. He also did several land surveys in the Skaneateles area.
Don and June lived most of their lives in Skaneateles, where they were active in many civic organizations. Don was on the town planning commission for many years and was known for his fairness and commitment to maintaining the water quality of Skaneateles Lake. Being a mason was a very important part of Don's life. Don joined the Masons in October 1955. He was a member of Skaneateles Lodge #522 F & A.M.; he was past High Priest of the Charles H. Platt Chapter #27 of the Royal Arch Masons. He also was a Knights Templar of the Central City Command #25.
Don was a member of the Presbyterian Church in Skaneateles where he served as deacon for many years. As Don advanced into his golden years, his failing hearing made it difficult to be active in organizations. However, his heart was still committed to important issues and organizations.
In July 2009 Don and June moved to the Lodge at Otter Creek, Middlebury, Vt, to be closer to their daughter, Tricia. Don is survived by his wife June Behrens Sauer and his children, Patricia (Tricia) Kules and her husband, Bill, of Stowe, Vermont; Scott Sauer of Hamilton, Montana; two grandchildren: Harrington Neil and Gretchen; and one great grandchild, Ari also of Hamilton, Montana.
A Masonic service was held at the Lodge at Otter Creek in Middlebury. Contributions in his name can be made to the West Monroe Historical Society, 2355 State Route 49, West Monroe, NY 13167; or the Skaneateles Historical Society, PO Box 53, Skaneateles, NY 13152.