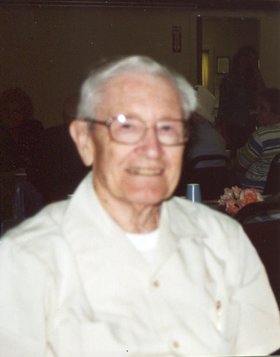 Alton C. Millen
unknown - August 10, 2012
Alton C. Millen, 91, of Liverpool, Passed away on Friday, Aug. 10, 2012, at St. Joseph's Hospital. He was born in Liberty, N.Y., and retired in 1987 after 36 years in education, 33 as an elementary principal in Little Falls, NY. He was a founding member and past president of Little Falls Kiwanis Club, active with Boy Scouts, Little Falls Chapter Red Cross, former Deacon and Elder Little Falls Presbyterian Church, Pairs N' Squares Dance Club, Clay Seniors, a member of Trinity Evangelical Presbyterian Church and veteran of WW II serving as Bombardier with 95th Bombers Corps in England.
Surviving are his wife Jane, daughters Cheryl Millen of Liverpool and Janis McDonnell of Avondale, PA, four grandchildren, and two great-grandsons.
Calling hour: 1 to 2 p.m. Tuesday, Aug. 14, at the Maurer Funeral Home, 300 Second St., Liverpool with funeral services at 2 p.m. at the funeral home. Burial will be in Union Cemetery, Edmeston, NY. Donations can be made to the Disabled American Veterans in memory of Alton C. Millen. Disabled American Veterans (made out to DAV), Attention: Gift Processing, PO Box 14301, Cincinnati, OH 45250-0301.