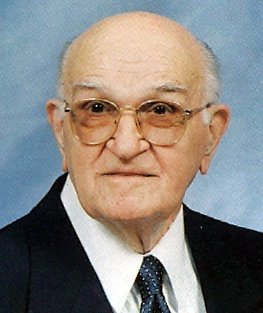 Samuel S. Buranich, Sr.
unknown - July 25, 2012
Samuel S. Buranich, Sr., 93, of Camillus, passed away peacefully on Wednesday, July 25, 2012. Born in Youngstown, Ohio, on Sunday, July 28, 1918, he was the son of Frank Buranich and Mary Fatcheric Buranich. He was a 1936 graduate of Elbridge High School.
Sam served in both the North African and European Theatres as a master sergeant in the United States Army during WWII. He was a partner in the Fatcheric-Buranich Dairy Farm in Warners and later became the office manager for Don Elliott´s Fuel Service.
Sam was a member of the American Legion Post #1540, Camillus Senior Citizens and charter member of BPOE Lodge #2367. He was an avid golfer and former member of Camillus Country Club and Westhill Golf & Country Club. A communicant of St. Joseph's Church, he served for many years as an usher, counter and member of the Holy Name Society.
Sam loved SU sports, the Yankees, bowling, his eight iron, and sending cards to his family and friends.
His wife of 52 years, the former Gloria Catherine Jensen, passed away on Sept. 1, 1995.
Surviving are his son and daughter-in-law, Samuel and Ann Buranich Jr. of Camillus; daughters and sons-in-law, Nancy and Dr. Ronald DelSignore of Kattskill Bay, Doreen and Harvey Simmons III of Skaneateles and Cheryl and Ted Furtch of Camillus; sister, Julia Hulchanski of Camillus; brother and sister-in-law, Peter and Shirley Buranich of Northbrook, Illinois; grandchildren, Mark (Amber) DelSignore, Deb (Nate) Aydelott, Robert (Rose) DelSignore, Heather (Dan) Thome, Samuel (Carla) Buranich III, Olivia (David) McNeal, Grace Simmons and Harvey Simmons IV; and great-grandchildren, Jensen, Peyton and Sophie DelSignore, Joseph and Ella Thome, Maxwell and Tyler Buranich, Wesley Aydelott and Gabriel DelSignore.
The family would like to express their gratitude to the nurses and staff of the Nottingham Skilled Nursing Facility for their loving care.
Relatives and friends called from 3 to 7 p.m. Friday, July 27 at the Buranich Funeral Home, 5431 W. Genesee St., Camillus. Rev. James Lang was the main celebrant at the funeral mass at 10:30 a.m. on Saturday, July 28 in St. Joseph's Church with Auxiliary Bishop Thomas J. Costello, Rev. Peter Worn, Rev. Msgr. Richard M. Kopp, Rev. Msgr. J. Robert Yeazel, Rev. James Donovan, Rev. Thomas McGrath, Rev. John L. Roark and Deacon Nick Alvaro assisting.
Sam was laid to rest with Gloria in Greenlawn Cemetery, Warners.
In lieu of flowers, contributions may be made to St. Joseph's Church Capital Campaign, 5600 W. Genesee St., Camillus, NY 13031. Please view the Buranich Family Video Tribute and share condolences at buranichfuneralhome.com.