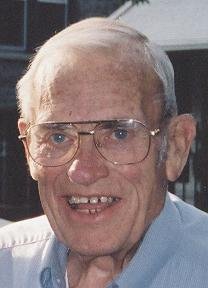 Robert Nolan
May 31, 1929 - July 26, 2012
Robert James Nolan, 83, of 3289 Depot Road, Sennett, died on July 26, 2012, at Strong Memorial Hospital in Rochester.
Robert was born May 31, 1929, in Auburn, the oldest son of Vincent and Evelyn Wride Nolan (sister Phyllis and brother Bruce). He graduated from Auburn East High School and attended Assumption College in Windsor, Ontario, before joining the U.S. Army, where he proudly served his country as a water purification specialist with a construction engineers batalion that was deployed in France during the Korean War.
Robert was an accomplished salesman in Optical Systems, where he worked for General Electric, American Optical Co., Bausch & Lomb, Cambridge Instruments, and Leica. He was best known by his family and friends for his sales career with Bausch & Lomb. He joined B&L in 1960, covering New York state, parts of Pennsylvania and Canada for 28 years. He earned salesman of the year honors for B&L's Scientific Optical Division in 1981, 1982, 1985 and 1988. Even after his retirement, he continued to work as a consultant for Empire State Scientific Co..
Robert's early career took him to Chicago, Rochester and Buffalo. However, he spent the last 45 years of his life in one place with his family, near Auburn.
Robert was also a teacher of optics. He taught teachers and students in colleges throughout the state how to use microscopes and other related optical equipment. He loved teaching his children history and regularly took his children with him to all parts of the state. His children also remember how he brought microscopes into their school classes, showing them and their classmates how to make slides and observe the world through microscopes.
For many years, Robert was an active member of the Knights of Columbus, and the American Legion, teaching church school, working with Confirmation students, and instituting the food pantry. His hobbies included refinishing furniture, restoring family items, cooking, fishing, and camping in the Thousand Islands. He was an avid gardener and enjoyed playing golf in his younger years.
Most recently he was a partner with his wife, Madeline, assisting her in the ABC Preschool in Elbridge, N.Y. He was a family man and always happiest when his 4 children and 10 grandchildren were around him.
Robert is survived by his wife of 47 years, Madeline Carol [Biegen] Nolan; his four children: Kristin Nolan Rickey (husband Tom) of Pittsford, N.Y; Daniel J. Nolan (wife Ann) of Chicago, IL; Timothy J. Nolan (wife Valerie) of Pittsford, N.Y; and Michael J. Nolan (wife Brittany) of Webster, N.Y; 10 grandchildren: Sean, Colin, Shane, and Brianna (Tim & Valerie); Daniel (DJ), Aidan, and Riley (Dan & Ann); Julianna and Georgia (Kristin and Tom); and Braeden (Mike & Brittany); and his sister, Phyllis Dido (husband David) of Syracuse, N.Y; and many nieces and nephews. Robert is predeceased by his brother Bruce T. Nolan (wife Mary Evelyn).
Calling hours: 4 p.m. to 7 p.m. Monday, July 30, at Bush Funeral Home, 120 E. Main St., Elbridge.
Mass of Christian burial: 10 a.m. Tuesday, July 31, at St. Patrick's Church in Jordan. Burial followed at St. Joseph's Cemetery in Auburn alongside his parents, Vincent and Eveyln Nolan.
In lieu of flowers, donations may be made to the Restoration Fund at St. Patrick's Church in Jordan, or to Mercy Home for Boys and Girls, 1140 W. Jackson Blvd, Chicago, IL 60607. Bob will be missed greatly, but God's mercy and love will be with him as he passes on to his eternal home. May he rest in God's love and peace.