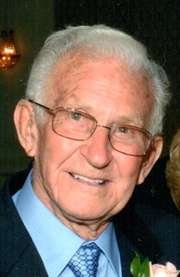 Harold Burrows
unknown - April 14, 2012
Avid square dancer, active with Boy Scouts
Harold W. Burrows, 88, of Baldwinsville passed away Saturday surrounded by his loving family. Born in Syracuse, he was a graduate of North High. Harold was a US Army Air Corps Veteran of WWII. He retired as a service representative from Niagara Mohawk in 1983 after 37 years. He was an avid square dancer, active in the Boy Scouts and enjoyed spending summers with his family at the lake. Harold was a member of St. Mark's Episcopal Church and St. Luke's Episcopal Church in Ft. Myers, FL.
Survivors: his wife of 65 years, Evelyn Burrows; daughter, Judie (Lewis) Samhammer of Camillus; two sons, Bill (Rhoda Hatter) Burrows of Baldwinsville and Randie (Kelly) Burrows of Baldwinsville; grandchildren, Christopher (Diana), Jessica (Ray), Timothy, Nicole, and Eric; several wonderful nieces and nephews. The family wishes to express their heartfelt thanks to Jerri for the generous care and comfort she gave to Harold.
Services: 11:00 a.m. Thursday at St. Mark's Episcopal Church. Calling hours will be from 4 to 7 p.m. Wednesday at Tindall Funeral Home, 1921 W Genesee St, Syracuse.
In lieu of flowers, contributions may be made to St. Mark's Episcopal Church, 1612 W Genesee St., Syracuse, NY 13204 or Hospice Of CNY, 990 7th North St., Liverpool, NY 13088.