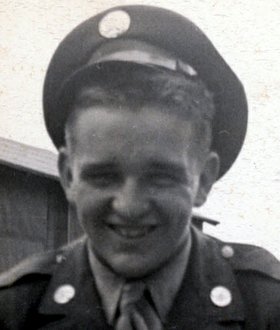 Robert Samuel Durland
Baldwinsville
unknown - April 20, 2012
Robert Samuel Durland, of Baldwinsville, East Aurora, and Monticello, NY, died April 20. He was born on Nov. 26, 1925 in Monticello, to Wesley and Gladys (Chase) Durland. Bob was the grandson of Emma C. Chase, a pioneer in New York state and Sullivan County education.
Predeceased by his parents, his sisters, Marjorie Durland Smith and Alberta Durland Richardson, he is survived by his wife of 61 years, Elizabeth (Holze) Durland of East Aurora, and their children Robert W. Durland and Carrie Lynn Silver of Eagle, ID and Sue (Durland) Galbraith of East Aurora. He is also survived by his four grandchildren (Megan (Durland) Smith, Robert Chase Galbraith, Weston William Durland, and Brooke Lynn Durland), with a fifth on the way, and many nieces and nephews.
Upon graduating from Monticello High School, he entered the United States Air Force and became a navigator. After an honorable discharge with the American Campaign Medal, Good Conduct Medal and World War II Victory Medal, he entered Syracuse University where he achieved a degree in civil engineering. There he was introduced to lacrosse and his future bride.
Bob started a long career that lasted over 30 years with the New York Telephone Company starting in Troy, NY and settling the family in Baldwinsville, NY in 1960. Over the years, he planted 16,000 pine trees on the beautiful property as well as a small orchard, berry bushes and gardens. Bob had tree stands in the "back 40" where he enjoyed pheasant and deer hunting. His passion though was to go out west and hunt deer and elk with his son Bob in Idaho every fall.
While Bob was attending Syracuse University, he played defense on their lacrosse team. This love of lacrosse bloomed into an avocation which included refereeing, assigning high school and college games, and playing and coaching for the Syracuse Lacrosse Club. He was honored in the Central New York Lacrosse Hall of Fame for his hard work as an official and scheduler. He was a mentor to many officials.
"Bones," as he was affectionately known, was a real outdoor kind of guy. He loved chopping wood, picking apples and berries, growing garlic and watching Syracuse University sports. He was a very funny man, witty, intelligent, who deeply loved his family and country.
For the past two years, Bob fought the battle of his life with esophageal cancer. His strength to maintain his dignity, self-respect and pride overwhelmed his family and friends alike. He always tried to keep a smile on his face with his big black glasses on. He was so loved and will always remain close in our hearts.
The family requests that in lieu of flowers, donations be made to the Roswell Park Cancer Institute (Roswell Park Alliance Foundation, Elm and Carlton Streets, Buffalo, NY 14263).
A memorial service was held at 1 p.m. Saturday, April 28, at the Falardeau Funeral Home, 93 Downer St., Baldwinsville. Burial services followed at Riverview Cemetery, Baldwinsville.

Services for Robert Samuel Durland