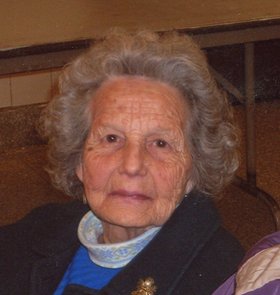 Irene E. Yerdon
unknown - April 13, 2012
Irene E. Yerdon, 87, formerly of North Syracuse, died Friday, April 13, 2012, at the Elderwood Health Care Center. Irene was a native of Cobleskill, N.Y., and grew up in the Ogdensburg area before moving to Syracuse when she was 19. She resided at 209 Avery Drive in North Syracuse for 52 years before living most recently at Elderwood at Birchwood. Irene was the daughter of the late Charles and Hazel (VanValkenburg) Prefume.
Irene was formerly employed as a secretary and dental assistant for Dr. White in Syracuse. She enjoyed gardening, crafting, camping and was an avid reader. She was a longtime communicant of St. Margaret's Church in Mattydale and a volunteer on their bingo committee.
Irene was predeceased by her husband of 42 years, Harold Yerdon, in 1996 and by her two sisters, Ethel Prefume and Helen Gibson and a brother, John Prefume of TX..
Surviving are her three daughters: Bonnie (Donald) Maguire of Cicero, Janet Yerdon of Newburg, and Charlene (Charles) Anguish of Clay; a sister: Myrtle Prefume of Syracuse; her three brothers: Charles Prefume of AR, Jose Faria of Mattydale, and Floyd Faria of FL; and five grandchildren: Kimberly, Stephanie, Donnie, Brett, and Charnelle.
All funeral services will be held privately at the Krueger Funeral Home, 2619 Brewerton Rd., Mattydale. Burial will be in Woodlawn Cemetery, Syracuse. Contributions may be made to the American Cancer Society, 6725 Lyons St., Box 7, East Syracuse, NY 13057. For more information, photos or to sign the guest book, please visit kruegerfh.com.