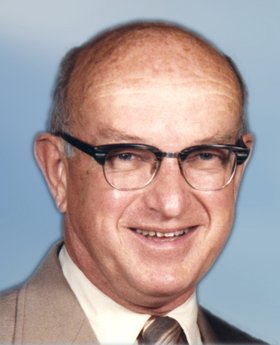 Harlan Howe
unknown - April 12, 2012
Harlan Lewis Howe, 89. died Thursday, April 12, 2012, in Fayetteville. He was born in Paterson, N.J., and lived in the Syracuse area for more than 65 years. Harlan graduated from Ridgewood, N.J. High School in 1940, and from Rensselear Polytechnic Institute in 1944 with a degree in mechanical engineering. In 1978 he retired from Carrier Corp. after 30 years as a design engineer. For the past 27 years he has lived in the Cazenovia/Chittenango area. Harlan was a quiet, confident, self-assured man with strong family values and deep reverence. He loved the outdoors, especially camping, canoeing and gardening. His many hobbies included traveling, photography and family genealogy, through which he traced the records of over 2,500 family ancestors. He was an accomplished handyman and woodworker, and leaves behind many wonderful products of his skill and artistry for his family and friends to enjoy. Harlan and Shirley Tarr met in the Fall of 1948, and were married May 7, 1949. Within seven years, they were raising a family of four children. They enjoyed many happy years of retirement during which they entertained thousands of people in the Central New York area with their elaborate and unique three-screen slide show presentations. He was the rock of the family, and together they taught their children the values of loyalty, service and self-sufficiency with a passion.
Harlan was preceded in death by his parents Paul J. and Eliza E. (Lewis) Howe, loving wife of more than 52 years Shirley A. (Tarr) Howe, and daughter-in-law Barbara R. Wells-Howe.
He is survived by his sister Janet L. Adams, children Paul L. (Cindy), Kenneth H. (Bonnie), Susan J., and Donald C. (Lynne) Howe, 14 grandchildren and four great-grandchildren. He also leaves behind a second "family" at First Presbyterian Church in Chittenango, where he was beloved and cherished by all.
Funeral services: 11 a.m. Saturday, April 21, at the First Presbyterian Church, Chittenango. Burial will follow in Oakwood Cemetery, Chittenango. Friends are invited to a luncheon at the church following the burial. Calling hours: 6-8 p.m. Friday, April 22, at the G.F. Zimmer Funeral Home, 702 Legion Drive Chittenango. Memorials may be made to the Chittenango First Presbyterian Church.