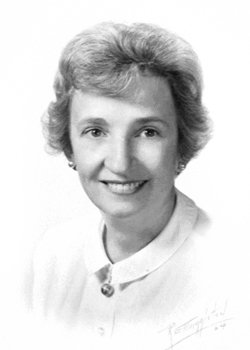 Margaret Rex Evans
Skaneateles
unknown - unknown
Margaret Rex Evans, 95, of Naples, Fla., and formerly of Skaneateles, died April 16, 2012 in Auburn surrounded by her loving family. She was predeceased by her husband Chuck and all four of her siblings.
She was born Margaret Schall Rex on July 24, 1916, in Norristown, PA, the oldest of five children, to Anna Virginia Schall and John Harvey Rex. She attended Westchester State Teacher's College and Columbia University and married Charles Mayhew Evans on her birthday in 1942.
After World War II, they moved to Skaneateles, where Margaret faithfully supported her husband's career at Welch Allyn. She was a homemaker and active in the community. She helped organize the Skaneateles Central School PTA and started their musical string program. As a member of the First Presbyterian Church, she taught Sunday School, participated in the Women's Association, and served on the Session. As president of "The Home" in Auburn, she worked tirelessly to earn NYS Accreditation. She was a long-standing member of the Leisure Hour Club and the Monday Evening Club, a competitive nine-hole golfer, loved to dance, and enjoyed her bridge club. She was co-founder of FISH and with her husband served as a driver. In 1982, Marg and Chuck moved to Naples, FL where they enjoyed many happy retirement years. Margaret will be interred in Lake View Cemetery alongside her husband of 67 years. A memorial service will be held at First Presbyterian Church of Skaneateles on Saturday, May 5 at 2:30 pm. In lieu of flowers, donations may be made in Margaret's name to the First Presbyterian Church Memorial Fund (Skaneateles) or the Moorings Presbyterian Church Memorial Fund (Naples).
She is survived by her three children Virginia Helen Longacre (Andrew), Margaret Anne Bennett (Lee), and Charles Edward Evans (Jane); eight grandchildren and four great grandchildren (with one on the way).
To send condolences visit robertdgrayfuneralhome.com.

Condolences are being received online.
Services for Margaret Rex Evans