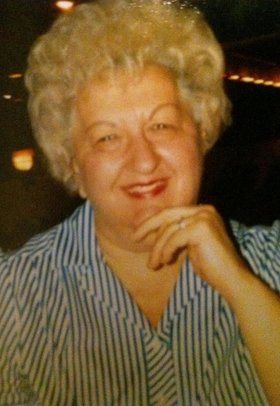 Patricia Devoy
unknown - April 9, 2012
Patricia Ann Kiernan Devoy, 75, passed away peacefully in Sun City, AZ, on Monday, April 9, 2012 after a sudden illness. Born in Syracuse, she resided on the North Side and graduated from North High School class of 1954 and later a 1979 graduate of Central City Business Institute. Her employment included The Addis Company, Onondaga County Health Department and she retired from General Electric. Volunteer work included past president and a lifetime member of the Fayetteville Fireman's Ladies Auxiliary and a member of the Onondaga County Fireman's Ladies Auxiliary. She devoted many hours to The Lighthouse of Syracuse, The State School for the Blind in Batavia and also served as past president of Parents Visually Impaired Children. As an active member in the East Syracuse Minoa School District, she became a board member of the ESM Band Boosters, Mother's Club and PTO. Her hobbies included bowling at the former Fremont Lanes with various leagues throughout the years. But her favorite place on earth was White Sands at Lake Ontario camping with family and friends. Pat married Paul F. Devoy of Fayetteville in 1956 and moved to Fremont. Pat and Paul raised six children in Fremont and relocated to Phoenix, AZ in 1979. Pat had an enormous love of people and had many, many close lifetime friends. She was very proud of her Irish heritage and of being a native New Yorker. The love of her life were her children, grandchildren and many friends. Pat was well loved and was a friend to all, she had a gift which endeared her to people.
Pat was predeceased by her husband of 51 years, Paul F. Devoy, Sr., her son, Paul F. Devoy, Jr. (Chip), her parents, Frank and Gertrude Kiernan and her sister, Vivian Nutting.
She is survived by her five children, daughters Vivian Robin Kiernan of Phoenix, AZ Patricia (Steve) Barnett of Squaw Valley, CA; sons, David (Jennifer) Devoy, James (Carla) Devoy both of Phoenix, AZ and Raymond Devoy of Manlius; 17 grandchildren; 3 great-grandchildren; and several nieces, nephews and cousins.
Services: 9:15 a.m. Monday, April 16, at Eaton-Tubbs Fayetteville Chapel and 10 a.m. at Immaculate Conception Church, 400 Salt Springs St., Fayetteville. Burial will be in Collamer Cemetery. Calling hours: 2 to 4 p.m. Sunday, April 15, at the funeral home, 7191 E. Genesee St., Fayetteville. For directions, florists, or a guestbook, please visit scheppfamily.com. Contributions: may be made to Hospice of the Valley, 1510 E. Flower St., Phoenix, AZ 85014.