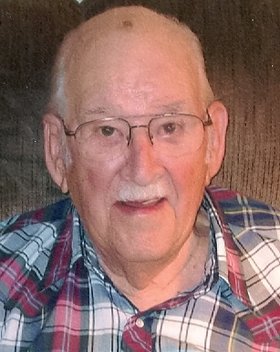 Richard Champion
unknown - April 9, 2012
Richard (Dick) Stevely Champion, 89, of Erie Village, East Syracuse, passed away peacefully on Monday. April 9, 2012.
Dick was born on January 10, 1923, the son of Leslie and Mary Estelle Champion of Phelps, NY. He was a graduate of Phelps CHS and attended Rochester Business Institute. He served in the U.S. Army during WWII in the First Amphibious Engineer Company and landed on Utah Beach on D-Day, June 6, 1944 during the Battle of Normandy. He then served for another two years in the European Theater.
Dick married Ellen Ruthven on March 30, 1946. In 1958 Dick and Ellen moved to Syracuse, NY. Dick worked in the gravel/road construction business starting with General Crushed Stone Co. and retired 46 years later from Hansen Company.
Dick was an avid hunter and fisherman. He enjoyed spending many winters with family and friends in New Smyrna Beach Fl., and at their summer home on Kasoag Lake, NY. He was a member of Trinity Episcopal Church in Fayetteville for 52 years.
Dick is survived by his wife of 66 years, Ellen of Erie Village, his three daughters; Susan Champion, Tucson AZ, Mary Jo Champion (Art Mack) of Port Charlotte, FL., and Leslie Cobb of N. Syracuse. He is also survived by his grandchildren; Michelle, Matthew and Sarah Cobb of N. Syracuse and Lucas Sullivan of Tucson, AZ.; several nieces and nephews and cousins; and two sisters-in-law, Rena Ruthven of Phelps, NY and Mary VanWinkle of Pen Yan, NY.
Memorial service was held at Trinity Episcopal Church, Fayetteville. For a guestbook, please visit scheppfamily.com. In lieu of flowers, contributions can be made to Trinity Episcopal Church, 106 Chapel St., Fayetteville, NY 13066.