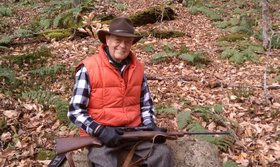 Darrell Ward Carpenter, Sr.
unknown - April 6, 2012
Darrell Ward Carpenter, Sr., formerly of Manlius and Skaneateles, died of natural causes on April 6, 2012, at home in Wynnewood, Pa., at age 85.
Darrell was born in a cabin in 1926 in Capulin, New Mexico to Ira and Thelma Carpenter. He graduated from high school in New Castle, Colorado and immediately volunteered to serve in the U.S. Army. He progressed successfully through many training schools including engineering and was selected to be specialty-trained at Yale University in Japanese linguistics and military intelligence. He served in the Japan Campaign of WWII as a Tech Sergeant in the First Cavalry. Despite, or perhaps because of, his humble beginnings, he went on to graduate with honors from Yale in 1949 and he earned his MBA from Harvard Business School in 1959.
He began his professional career in sales at Syracuse China, Syracuse. He rose to vice president of sales and marketing from which he retired in 1970. He then founded and served as president and CEO of several companies including Marketing Intermediaries and Vykon, Inc.
He married Eunice Amelia Pass from Syracuse, New York in 1955. He is survived by his wife, children Darrell Jr. (Catherine), Henry (Melissa), Ruth Ann (Stacy), and Richard (Jeanie), 10 grandchildren (Kenniston, Alexander, Jonathan, Nina, Elisabeth, Amelia, Cayleigh, Chase, Euna, and Shianne) and 2 great-grandchildren (Mia, Brody). He is also survived by his sister, Marjie Carpenter Swomley, of Kansas City, MO and many nieces and nephews. Darrell and Eunice raised their family in Manlius, then moved to Madison, N.Y., as empty-nesters. They recently moved from Madison to Wynnewood, Pa, to be near children and grandchildren.
Known affectionately as "Max," Darrell was an avid and lifelong outdoorsman, naturalist, and educator of leaders. He was Scout Master of Boy Scout Troop #69 in Manlius from 1966-1971 and served on the Executive Committee of the Hiawatha Council. He also coached Manlius Little League baseball where he inspired his team to become League Champions in 1968.
While he accomplished much during his time here, his greatest impact was felt through the loyal friends he was surrounded by, and the loving family that he and his soul mate created, nurtured, and protected. He graced us all with his quick wit and wonderful sense of humor. For example, in recent years, when asked how he was, he might answer, "Well, I'm not buying any green bananas."
He approached all things with a sense of wonder, vision, and purpose, and the belief that nothing was impossible. He was a spiritual man…his place of worship was the streams, mountains and trails of the Colorado Rockies, the New York Adirondacks, and a place that he lovingly called "The Farm." He knew that this thing called "life" was a blessing that was not his to keep, but instead was a gift, of which he was its temporary steward. He took that responsibility very seriously, making sure that he did the very best he could with the energy and talents that God gave him. In doing this, he earned the love that he enjoyed and created a legacy that will live on forever.
In lieu of flowers, donations may be made in Darrell's honor to Longhouse Council of Boy Scouts of America, Central New York State, Camp Sabattis Fund. Address: 2813 Brewerton Road/US 11, Syracuse, NY, 13211, 463-0201. Memorial services will be held at "The Farm" in the summer of 2012.