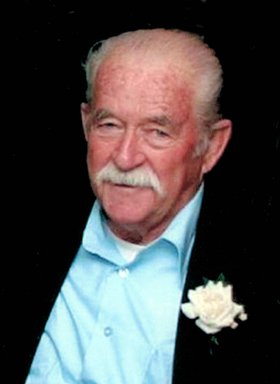 John R. Call
unknown - April 7, 2012
John R. Call, 86, of North Syracuse, died Saturday, April 7, 2012 at his home. He was a Homer native who served as ship's baker in the U.S. Navy during WWII. He was a communicant of St. Thomas and St. Matthew Episcopal churches. He retired as a foreman after 30 years of service with Carrier Corp.
Mr. Call was a Disaster Relief Volunteer for the American Red Cross and regular at the Airport MacDonald's.
He was predeceased by his wife of 63 years, the former Barbara J. Miner on Oct. 19, 2007; a son, Robert Call, on Feb. 16, 2000 and a grandson, Todd J. Leone on Sept.r 26, 2003.
Surviving are his daughter, Patricia Goodnough (Leo) of Oswego; a foster son, Kenneth Wood of North Syracuse; three granddaughters, Angela Wilcox, Dawn Sweeney and Lisa (Nick) Coulombe; nine great-grandchildren, Jennifer (Cyndi) Golden, Thomas Golden, Tiffany Wilcox, Gabrielle and Kayla Sweeney, Austin, Brianna and Samuel Leone, and Noah Coulombe; a great-great-granddaughter, Chloe; two brothers-in-law, Thomas Perrott and Kenneth (Marti) Miner; a sister-in-law, Nancy Miner and several nieces and nephews.
Graveside services: 11 a.m. Thursday, April 12 in White Chapel Memory Gardens, Kinne Road, DeWitt where military honors will be accorded. Donations may be made, in lieu of flowers, to the Disaster Relief Fund of the American Red Cross, 220 Herald Place, Syracuse, NY 13202-1085 or to the Humane Association of CNY, 4915 ½ West Taft Road, Liverpool, NY 13088. Memorial messages may be left at FergersonFuneralHome.com.