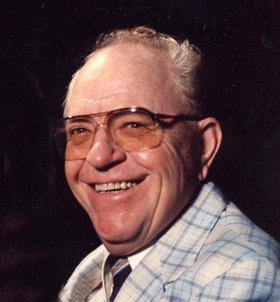 Douglas P. Burton
unknown - April 4, 2012
Douglas P. "Red" Burton, 87, died Wednesday, April 4, 2012, at St. Joseph's Hospital. A native of Cicero, he was a life resident of the area. During World War II, he served in the US Marine Corps in the Pacific Theater.
Retiring in 1972, Mr. Burton had a 40 year career as a carrier with the US Postal Service. He was a member of Trinity Church Seniors and enjoyed gardening and traveling around the world.
The former Marion R. Koppel, his wife of 49 years, predeceased him on August 18, 2008.
Surviving are his son, Douglas (Marjorie) Burton; four grandchildren, Peggy (Bob), Amy, Joseph and Garth; five great grandchildren, Aleasia, RJ, Joseph, Nicole, and Eden; three sisters, Caroline Bartlett, Beverly Cummins and Flora Cunningham and several nieces and nephews.
Calling hours: from 9:30 to 11:30 a.m. Monday, April 16, prior to services at 11:30 a.m. at Fergerson Funeral Home, 215 South Main St., North Syracuse. Mass of Christian burial: 12:10 p.m. at St. Daniel's Church, 3004 Court St., Syracuse. Entombment, with military honors will be in Assumption Cemetery. Donations may be made to charity. Memorial messages may be left at FergersonFuneralHome.com.