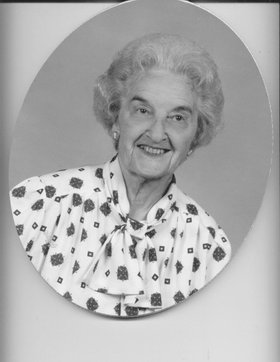 Kathryn I. Waite
August 16, 1914 - September 27, 2011
Kathryn I. Waite peacefully left her earthly home into eternal peace on Sept. 27, 2011, at Syracuse Home with friends and family lovingly caring for her. Mrs. Waite was born in Aug. 16, 1914, in Black River, daughter of Burt Eldridge and Gladys Carey Eldridge. She graduated in 1931 from Black River High School and Watertown School of Commerce in accounting. She was hired as a book keeper
Following graduation at Waite Motor Sales in Adams.
Kathryn married Easton M. Waite on June 26, 1939, at the Methodist Parsonage in Boonville, N.Y.
Kathryn continued to work with her husband until 1952 when Easton brought Paul into the business and formed the corporation and continued to sell Studebakers. In 1966 Toyota was added when Studebaker-Packard closed down. Kathryn and Easton retired in 1976 from the family business.
At present Barry and his sons continue into the fourth generation of Easton's and Kathryn legacy.
Kathryn is survived by her daughter, Sally Ann Waite Dayger, her husband G. Willis Dayger of Baldwinville: Two grandchildren, Barry Waite (Ellen) of Adams Center and Cheryl Waite Robbins of Adams, four great grandsons, Darrick Pleskach (Shaun) of Adams Center, Justin Waite (companion Alissa) of Adams, Matthew Waite (Rebecca) of Lorraine, Travis Downey (Katie) Watertown, and one great-great grandson, Hunter Waite, and two great- great granddaughters, Devyn and Raegan Pleskach, and several nieces and nephews and great nieces and great nephews.
She is predeceased by her husband, a son: Paul C. Waite; four brothers: Winifred, Kenneth, Richard and Leon, and three sisters: Thelma E. Ross, Evelyn E. Fuller and Ruth Eldridge (in childhood).
Following the death of Easton in 1985, Kathryn relocated to Baldwinsville where she continued with accounting working for her daughter and son-in-law in their lawn and garden business, retiring when it was sold in 1988.
Kathryn was very generous giver of her time and a willing member of her church- First United Methodist Church and her constant volunteer in her community.
She volunteered in the church office, was a member of Business and Professional Women, receiving Women of the year award in 1997, as well as Women's garden Club, Beachamp Historical Club, McHarrie Legacy
And a former Docent for the Shackboro Museum. She continued to be an avid weekly volunteer for the Baldwinsville Food Pantry until she became ill following surgery in April of this year.
She enjoyed life to the fullest with many trips abroad and with her greatest passion of being an avid reader, researcher and writer of historical facts of her husband's Grandfather, "Civil War Survivor of Andersonville Prison".
Calling hours: 3 to 6 p.m. Sunday Oct. 2 at First UMC Church with services immediately following for a "Celebration of Kathryn's Life", with Rev. Dr R. David Oertel and Rev. Gordon Knapp officiating. Burial: 10 a.m. Monday Oct. 3 at the Elmwood Cemetery in Adams. The family desires donation to Baldwinsville Community Food Pantry, 17 West Genesse Str. Baldwinsville. Gracious arrangements are with Gates Funeral Home.