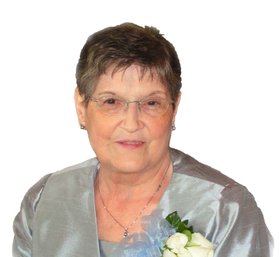 Virginia L. Ditz
unknown - September 24, 2011
Virginia L. Tanner Ditz, 75, of Seneca Knolls, passed away Saturday Sept. 24, 2011, at St. Joseph's Hospital. She was born in Geneva, OH, and has lived in the Syracuse area for 55 years. She worked at Syracuse University in the chemistry department for 18 years, both as a secretary and as an administrative assistant. Virginia was predeceased by her son-in-law Harold Foster in 2007.
Survivors: her husband of 55 years, John P.; daughters, Cynthia (Thomas) Teamann, Mary E. Foster and Christine M. (Donald Byrnas) Ditz; sons, Michael J. Ditz, David M. Ditz, Thomas E. Ditz and Paul J. (Celena) Ditz; sisters, Donna (James) Fleming and Joyce (Charles) Short; grandchildren, Gregg, Mathew, Geoffrey, Daniel, Mark, Kali and Rory; great grandchildren, Isaac, Sarah, Daniel and Antonio; and several nieces and nephews.
Services: 9:30 a.m. Thursday Sept. 29 at Falardeau Funeral Home and 10 a.m. at St. Augustine's Church, Baldwinsville. Burial at Our Lady of Peace Cemetery, Clay. Calling hours are 4-7 p.m. Wednesday Sept. 28 at the funeral home, 93 Downer St.
Contributions: St. Augustine's Church, 7333 O'Brien Road, Baldwinsville, NY 13027.