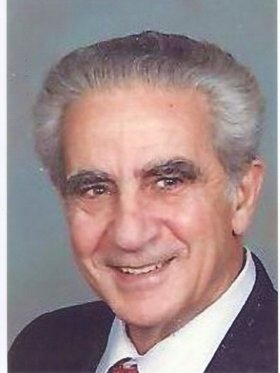 Dennis A. Gonnella, Sr.
unknown - September 23, 2011
Dennis A. "Dan" Gonnella, Sr., 89, of East Syracuse, passed away on Friday Sept. 23, 2011, at St. Joseph's Hospital. Born in Syracuse, Dan was a graduate of North High School. He served as a signalman with the US Navy during WWII.
Dan owned and operated Jerviden's Service in Syracuse for over 30 years, and was a co-founder of 3-D Auto Parts. He was a member of Emmanuel Episcopal Church in East Syracuse.
Dan was an avid bowler, race fan, enjoyed riding snowmobiles and motorcycles. Family members could never leave his side without a gentle reminder to "be careful."
Dan is survived by his wife of 41 years, S. Yvonne; a daughter, Delores (Richard) Ratowski of Syracuse; two sons, Dennis A. Jr. (Sharon) of Jordan and James M. (Mary) of Baldwinsville; two sisters, Virginia Sakowski of East Syracuse and Elizabeth (Alfred) Terrinoni of Jamesville; 12 grandchildren; 24 great grandchildren; one great great grandson; and several nieces and nephews. He was predeceased by his daughter Theresa Campeau in 1977.
Funeral Services: 9:15 a.m. Wednesday Sept. 28 from Eaton-Tubbs Fayetteville chapel and 10 a.m. at Trinity Episcopal Church, 106 Chapel St., Fayetteville. Burial will follow in White Chapel Memory Gardens. Calling hours: 4-7 p.m. Tuesday Sept. 27 at the funeral home, 7191 E. Genesee St., Fayetteville. For directions, florists, or a guestbook, please visit scheppfamily.com. Contributions may be made in Dan's memory to Emmanuel Episcopal Church, 400 W. Yates St., E. Syracuse, NY 13057.