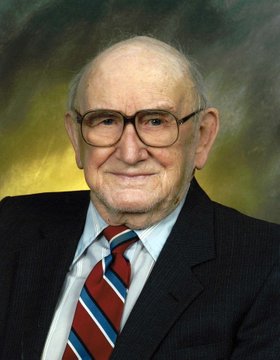 William J. O'Donnell
unknown - September 20, 2011
William J. "Bill" O'Donnell, 95, passed away Tuesday Sept. 20, 2011, at James Square Health and Rehab Center. Bill was born in East Syracuse on Oct. 2, 1915 to the late George and Catherine Dillon O'Donnell, immigrants from Ireland. He had polio at age three and at age ten was the first person in the CNY area to have surgery (new at the time) allowing him to stand and walk without a leg brace enabling him to lead a very active life.
Bill was employed as a draftsman for Niagara Mohawk until 1946. He was a self employed electrician until he went to work for the railroad in the early 1950s. He was employed by the NY Central, Penn Central and Conrail Rail Roads as an electrician, apprentice instructor and quality control superintendent. He was a member of the IBEW for over 55 years.
Bill resided in East Syracuse until 1969 when he was transferred to the diesel shop in Selkirk. Upon retirement in 1980, he returned to the area and resided in North Syracuse.
Bill was a member and past captain of the East Syracuse Volunteer Fire Department, Victory Hook and Ladder Company. He served as a Village of East Syracuse Trustee, a member of the East Syracuse Board of Education, the East Syracuse-Minoa Board of Education, the Village of North Syracuse Zoning Board of Appeals, and the North Syracuse Board of Education. He was a recipient of the Central New York School Boards Association William Krentel Award as a Board Member of Achievement in May 1993.
In addition to his parents, Bill was predeceased by his wife of 63 years, the former Jane A. Butts on August 1, 2004; a son, Lawrence James O'Donnell on July 13, 1973; a granddaughter Sarah Beth Heffron-O'Donnell on October 2, 2010; a great granddaughter, Heather Anne Coughenour on January 12, 2003; a son-in-law, James W. Coughenour on July 2, 2004; sister and brother-in-law, Mary and James Mallette and a sister-in-law, Genevieve O'Donnell.
Surviving him are six children, Anne L. Coughenour of Cicero, James F. (Diane) O'Donnell of Camillus, David W. (Kathy) O'Donnell of Whitinsville, MA, Richard F. (Nancy) O'Donnell of East Berne, NY, Karen M. (Anthony) Hicks of Alexandria, VA and Margaret A. "Maggie" O'Donnell of Pittsboro, NC; a brother, Gerald O'Donnell of East Syracuse; eleven grandchildren; eight great grandchildren and several nieces and nephews.
Services: at 10 a.m. Saturday Sept. 24 at the First United Church of East Syracuse, 823 Franklin Park Drive, East Syracuse with burial following in St. Mary's Cemetery, Minoa. Calling hours: 4 to 7 p.m. Friday Sept. 23 at Fergerson Funeral Home, 215 S. Main St., North Syracuse. Donations may be made, in lieu of flowers to the Golisano Children's Hospital, 750 East Adams St, CAB 326 Syracuse NY 13210 or to the North Syracuse Education Foundation, PO Box 5225, Syracuse, NY 13220-5225. Memorial messages may be left at.FergersonFuneralHome.com.