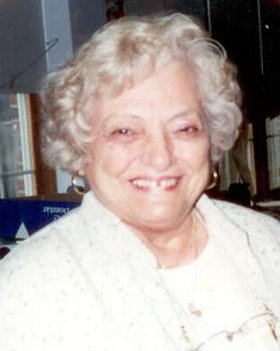 Constance Palumbo
unknown - September 21, 2011
Constance "Connie" Lou Palumbo, of Camillus, passed away peacefully at Iroquois Nursing Home on Wednesday Sept. 21 2011. She was the daughter of the late Antoinette and Paul Cavaliere of Syracuse. Connie was long- time employee of Acme and Chicago Markets and Marshals in Fairmount. Her latest and most enjoyable position was being a foster grandparent for the city school system. Connie's greatest love were her children and grandchildren. She enjoyed cooking and playing bingo. She will be deeply missed by all the hearts she touched with her love and kindness.
She was predeceased by her husband, Thomas "Tim" Palumbo in 1998, her sister, Lucy Squires and Victoria Minichillo and brothers, Francis and Victor and her son-in-law, Robert Waters, Jr.
Surviving are her children, Sharon Waters of Marcellus, John (Victoria Mandarino) of Lyncourt, and her grandchildren, Cristina Waters of Annapolis, MD, Cathleen Waters of Manhattan and Jonathon Palumbo of Lyncourt.
The family would like to thank the entire staff on floors 2 and 4 of Iroquois Nursing Home for their compassion and attentive care to Connie, especially, Jason, Maggie, Manny, and Susan.
A funeral service: 10 a.m. Saturday Sept. 24 at Whelan Bros. & Hulchanski Funeral Home, 5854 Belle Isle Road, Syracuse, NY 13209. Entombment in St. Mary's Cemetery Dewitt. Calling hours: from 9 a.m. to 10 a.m. before the service. Contributions may be made to Hospice of CNY.