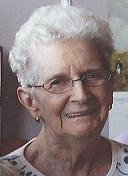 Clare Ten Eyck
August 29, 1926 - September 20, 2011
Clare Davitt Ten Eyck, 85, of Jack's Reef, died Tuesday Sept. 20, 2011, in Crouse Hospital. Born Aug. 29, 1926 at Plattsburgh Army Base, she was the daughter of Hugh and Mabel Davitt. Clare was a graduate of Plattsburgh State College earning bachelor's and master's degrees. She taught for a total of 33 years and she retired in 1988 after teaching the last 28 years in the Port Byron Central School District.
Clare was a communicant of St. Patrick's Church, Jordan and a member of the Altar & Rosary Society. She was also active in the Auburn YMCA.
Surviving are her husband of 58 years Stanley J. Ten Eyck, son Jeffrey (Sallee) Ten Eyck of Summer Hill, two daughters Nina (Robert) Zieschang of Jack's Reef and Kellie (Bill) Cheney of Jack's Reef, 5 grandchildren and 7 great grandchildren.
A mass of Christian burial: 10 a.m. Saturday Sept. 24 in St. Patrick's Church. Private burial will be in Maple Grove Cemetery. Calling hours: 4-7 p.m. Friday Sept. 23 at the Bush Funeral Home 120 E. Main ST. (Rt. 5) Elbridge. Contributions may be made to the Plainville Fire Dept. or the Auburn YMCA.