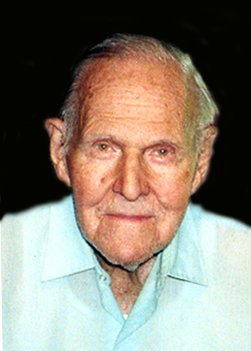 Christian Wamser
unknown - September 18, 2011
Christian Albert Wamser, 98, of Camillus, passed away Sunday Sept. 18, 2011, at Van Duyn Home & Hospital. He was born in Long Island City, NY, and earned a degree in chemical engineering from Cooper Union Institute of Technology in New York City in 1934. Chris began a 44-year career in chemistry that encompassed working for several companies in New York and New Jersey (mostly Allied Chemical or its divisions), serving as an analytical and research chemist in various fields ranging from metallurgical research to industrial chemicals, nuclear fuel reprocessing, high energy oxidants, chromium processing, water treatment chemicals, etc. He published 16 articles in technical journals and earned 20 patents. Two of his later papers on chemist-composers were co-authored with his son Carl.
Chris was a member of the American Chemical Society since 1947 and served as chairman of its local sub-section in New Jersey. He retired from Allied Chemical (now Honeywell) in 1978.
Chris and his wife Madeline lived in Flushing, Long Island, moved to Berkeley Heights, New Jersey, in 1955, and later to Camillus in 1969. He and his wife served for many years as volunteers for the Central New York Chapter of the Lupus Foundation of America. Throughout his chemical career, he maintained a home laboratory and even published his first two articles (1948 and 1951) based on experimental research done at home.
Chris enjoyed doing "chemical magic" demonstrations for children, relatives, neighbors, friends, etc. He loved classical music and was an avid collector of recordings, old and modern, and equipment to play them. He enjoyed his last years at Camillus Ridge Terrace, an assisted-living facility.
Chris was predeceased by Madeline, his wife of 68 years. He is survived by a son, Carl C. Wamser of Portland, Oregon; a daughter and son-in-law, Christina M. and James Trautman of Orton, Ontario, Canada; five grandchildren; three great-grandchildren; and several cousins, nieces and nephews.
Relatives and friends called from 4 to 6 p.m. Thursday Sept. 22 at the Buranich Funeral Home, Camillus.
In lieu of flowers, contributions may be made to Cooper Union. Chris was a recipient of a full tuition scholarship at Cooper Union, a policy that continues to be applied to all admitted students since its founding in 1859. Please specify any donations as a memorial gift for Christian A. Wamser, (Class of 1934), The Cooper Union, 30 Cooper Square, 8th Floor, New York, NY 10003-7120, or online at cooper.edu/contribute.
Please view the Wamser Video Tribute and share condolences at buranichfuneralhome.com.