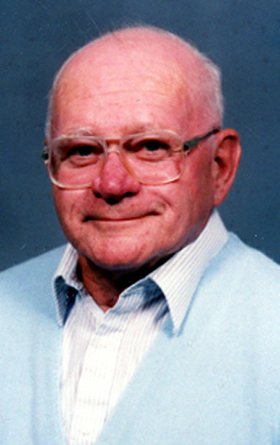 Mervin W. Nies
June 30, 1926 - September 12, 2011
Mervin W. Nies, 85, of Fairmount, passed away Monday Sept. 12, 2011, at Upstate University Hospital at Community General. Born in North Syracuse on Wednesday June 30, 1926, he lived in Camillus for more than 50 years. Mervin also enjoyed a summer home on the St. Lawrence River where he spent time fishing and boating. A 1947 graduate of North Syracuse High School, he was also a proud Army veteran of WWII. He was a butcher for both Armour & Co. and Suburban Foods. He was a member of First English Lutheran Church and long-time member of Camillus Elks. Mervin enjoyed spending time with his friends at Carr's Automotive. He was also an SU sports fan and avid history buff, having enjoyed reading history and watching the History Channel.
Mervin was predeceased by his first wife, the former Anna Fantauzzi; parents, William and Doris Nies; stepson, Thomas Phinney; and grandson, T.J. Phinney.
Surviving are his wife of 19 years, the former Eva Phinney; daughter, Elizabeth Nies of Durham, North Carolina; son, William Nies of Syracuse; stepsons, Tim (Becky) Phinney of Florida, Terry (Peggy) Phinney of Clay and David (Debbie) Phinney of Tully; stepdaughters, Gail (George) Posporelis of Brewerton, Sue Mackey of Baldwinsville and Wendy Swanson of Oswego; stepdaughter-in-law, Judy Phinney of Chittenango; 18 beloved grandchildren; 20 beloved great-grandchildren; several beloved nieces, nephews and cousins; and the Wonderful Fantauzzi Family.
Relatives and friends called from 4 to 7 p.m. Wednesday Sept. 14 at the Buranich Funeral Home, 5431 W. Genesee St., Camillus. Services were at 11 a.m. Thursday Sept. 16 at the funeral home with The Rev. Naomi Sorrwar-Randall officiating. Mervin was laid to rest at the Onondaga County Veterans Memorial Cemetery. In lieu of flowers, contributions may be made to Camillus Elks Lodge 2367, P.O. Box 396, Camillus, NY 13031. Please share condolences at buranichfuneralhome.com.