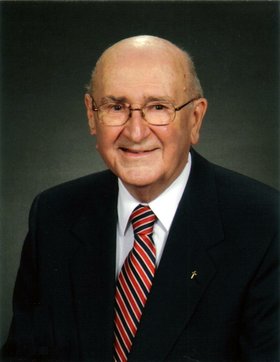 Arthur D. Little
February 18, 1927 - September 14, 2011
Arthur D. Little, 84, passed away peacefully Wednesday Sept. 14, 2011, surrounded by family.
Art was born Feb. 18, 1927, in Concord, NH, where he grew up on a farm. He has resided in Liverpool since 1956.
Art received a bachelor's degree in agricultural economics in 1949 from the University of New Hampshire, followed by a master's degree with a specialization in dairy marketing in 1952. He was employed by various dairy cooperatives including Metropolitan Cooperative Milk Producers, NEDCO, RCMA and Dairylea. He served his country from 1946-1950 in the United States Navy.
Art lived a life of service to his family, community and church. He was a 50-plus year member of Liverpool First United Methodist Church, where he served as lay leader for 20 years, and director of Christian education from 1987-2002.
He was a member of the Liverpool School Board of Education from 1971-1980, acting as the president of the BOE from 1974-1980. During his lifetime, he served on the Liverpool Community Council, Liverpool Library Board, various PTO organizations, Liverpool Rotary Club, Liverpool is the Place Committee, Springmoor Homeowner's Association, Board of the House at 807, Greenpoint's Men Club and Residence Assocation.
Art is survived by his loving wife of 61 years, Helen L. Little, three daughters, Kathie (Charles) Deyo of Concord, NC, Karen (Brian) Goodfellow and Deb Little of Liverpool, a grandson, four granddaughters and three great-grandchildren.
Art claims to have "just lived an ordinary life" not realizing the far – reaching impact he has had on family, friends, colleagues and acquaintances.
Memorial service: 11 a.m. Saturday Setp. 17 at Liverpool First United Methodist Church. Interment at Liverpool Village Cemetery with military honors will immediately follow the service, followed by a time of fellowship with the family at the church.
In lieu of flowers contributions may be made to the Resident's Council Fund at ElderWood Health Care at Birchwood, 4800 Bear Road, Liverpool, NY 13088 or the Sunday School Fund at Liverpool First United Methodist Church, 604 Oswego St., Liverpool, NY 13088.