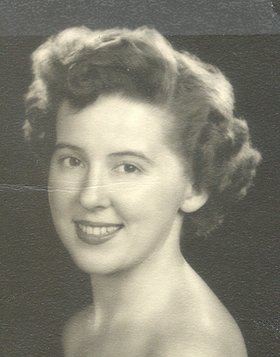 Joan McCarthy
unknown - September 10, 2011
Joan Vielehr McCarthy, 81, passed away at her home in Manlius, Saturday Sept. 10, 2011, with her loving family around her. Joan was a wonderful wife, loving mother and grandmother and a devoted friend to all. Joan graduated from the Valley High School in 1947. She was an executive secretary to Mr. Rothman at WSYR until meeting the love of her life, Dennis McCarthy. They were married for 57 years. In addition to her husband, Joan is survived by their five children, Linda (David) Marnell of Fayetteville, Dennis (Sharon) of Miami, FL, twin sons, Mark (Claire) of Acton, MA and Tim (Carol) of Wilbraham, MA and Erin (James) Galloway of Lexington, MA. She also has fifteen grandchildren and several nieces and nephews.
She was predeceased by her father, Paul Vielehr and mother, Helen Graham; and sister, Paulette Davidian.
As a proud mother, Joan loved all five of her children and was very supportive in their many sports. Joan was very involved with the Altar and Rosary Society of St. James Church in Cazenovia, The Key of Cazenovia and Officer of the Cazenovia Country Club. Joan was an avid golfer, bowler and bridge player. She was a passionate traveler. Joan loved spending time with her family and dog, Sam on Cazenovia Lake. She was a sports enthusiast with the Syracuse Orangemen. Joan had a keen eye for decorating and was very instrumental with the decorating of St. James Church in Cazenovia, as well as, the windows of Cazenovia Abroad while employed part-time in her later years.
Services: 9:15 a.m. Thursday Sept. 15 at Eaton-Tubbs Fayetteville Chapel followed by a mass of Christian burial at 10 a.m. at Immaculate Conception Church, Fayetteville. Burial will be in St. Mary's Cemetery, DeWitt. Calling hours: 4 to 7 p.m. Wednesday Sept. 14 at the funeral home, 7191 E. Genesee St., Fayetteville.
For guestbook, please visit scheppfamily.com.