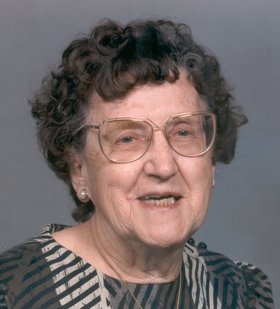 Lottie Dembkowski
unknown - September 9, 2011
Lottie (Leokadia) Dembkowski, 94, of East Syracuse, passed away Friday Sept. 9, 2011, at Loretto. Our beloved "Babci" was born Aug. 26, 1917 the daughter of the late Feliks and Stephania Godlewski. Besides her parents she is predeceased by her brothers Anthony, Casimir (Charlie) and sister Eugenia. Lottie was a graduate of Eastwood High School and a retired employee of Syracuse China.
Surviving to cherish her memory are her son, Gary (Maryann) Dembkowski, grandsons, Ryan, Evan and Garett, brother, Walter (Wanda) Godlewski, sister, Peggy Walsh and many nieces and nephews.
There were no calling hours.
Funeral services: 11 a.m. Monday Sept. 12 at St. Rose of Lima Church, 407 South Main Street, North Syracuse with burial to follow in Assumption Cemetery.
Lottie was very proud of her grandson Evan, who is a member of the Peace Corps and donations in Lottie's memory to his Peace Corps Project may be sent to: Gary Dembkowski, 6074 Marigold Lane, Cicero, NY 13039.