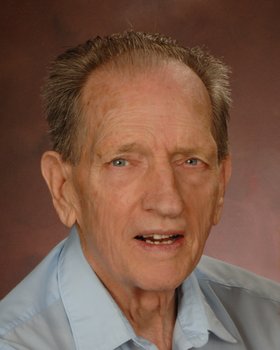 Dale R. Bear
April 4, 1928 - September 6, 2011
Dale Roland Bear passed away on Tuesday Sept. 6, 2011, at his home of residence.
Dale was born on April 4, 1928 on the family farm outside of Abilene, Kansas; born to Paul Raymond Bear and Bertha Marie Kinney the youngest son of five siblings.
Dale served his country as a Marine during World War II in El Toro, Calif. and credited his college education to the GI Bill where he graduated from Kansas State University with a double major in engineering and business. He married his high school sweetheart, Phyllis, and worked for General Electric until his retirement in 1991 after 37 years. Dale was also the business owner of Bear Motors Car Dealership and Dale Bear Mini Storage. A dedicated family man and an enthusiastic worker Dale built the family home from the ground up and their summer camps for their enjoyment. Work was not a stranger to Dale, in fact he considered it his hobby. Even his volunteer work with GE Retirees found him doing home maintenance for others in need.
Despite deafness in his right ear Dale enjoyed the music of country Western singers such as Hank Williams and Dolly Parton, the comedic touch of Minnie Pearl and the movie adventures of John Wayne. Fulfilling a lifelong dream to visit the Grand Ole Opry he had to pinch himself in order to believe he was actually there. Dale had a dry yet wonderful sense of humor, when he laughed it was whole hearted and he would slap his leg in the process for emphasis.
Many in the Baldwinsville area know of the nine-foot bear that stands in front of his residence on Cold Springs Road. What they may not know is the story behind it. He had always wanted a bear for the house and had visited the wood carvers at the New York State Fair but didn't find exactly what he was looking for. Then one day he simply told his wife he was going on a trip and would be back in a few days with no other explanation given. He pulled out of the driveway with a trailer attached to the car and when he returned lo and behold on the trailer was the nine-foot bear. He placed the bear on a revolving platform and periodically moved it ever so slightly, just enough so that people would wonder if it had actually moved. He always got a big kick out of hearing people's comments about the bear and enjoyed it when strangers would drive down the driveway to take pictures of it.
Dale is survived by his brother Phillip Amos Bear, wife Phyllis Opal Reiff Bear, their daughter Pamela Jean Bear Howard and son Roy Alen Bear; four grandchildren, Andrew James Sequin, Katrina Marie Bear, Christy Ann Bear and Christian John (CJ) Bear.
Calling hours: 9 to 11 a.m. Friday Sept. 9 at Maurer Funeral Home Moyers Corners, 3541 Rt. 31, Baldwinsville, NY with a service to follow at 11 a.m., with burial to follow in Riverview Cemetery, Baldwinsville. In lieu of flowers, donations can be made to the Dale R. Bear Memorial Fund at Kansas State University for the College of Engineering and Business Administration. Make checks payable to: Dale R. Bear Memorial Fund KSU Foundation, 2323 Anderson Ave, Suite #500, Manhattan, KS 66502.