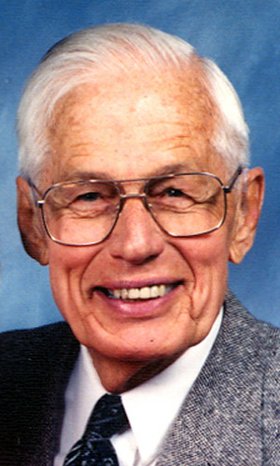 Oren Frank
April 28, 1921 - September 1, 2011
Oren Leslie "Les" Frank, 90, of Camillus, resident of Syracuse Home Assoc. for the last year, passed away Thursday Sept. 1 at St. Joseph's Hospital Health Center. Known to his family and friends as Les Frank, he was born in Sharpsville, Pa. on Thursday April 28, 1921, grew up in Conneaut, Ohio, and moved to Camillus in 1955. He graduated from Ohio State University and served in the Navy during World War II, achieving the rank of lieutenant. He was employed by Northwestern Mutual Life Insurance Co. as a chartered life underwriter for 40 years.
Les was an active member of Fairmount Community Church, serving on many of the church's major boards. He was particularly proud of the role he played in establishing Shove Park and Fairmount Gardens. His efforts in these areas earned him the Citizen of the Year award in 1994. He was also active in Camillus politics and was past president of the Solvay-Geddes-Camillus Kiwanis Club.
Les was predeceased by his first wife, Darlene Bailey Frank; sister, Dorothy (Milton) French; and his brother, Fred Frank.
Surviving are his wife, Anne Whedon Woodruff Frank; daughters, Diane (David) Marsh of Canandaigua, Judi (Chuck) Muniak of Onondaga Hill; son, Jim (Mary Kay Smyth) Frank of Rochester; stepdaughters, Sharon (James) Chmielewski of Central Square, Deborah (David) Meeker of Alsea, Ore., and Pam (David) Altman of Syracuse; brother, Roy Frank of Gaffney, South Carolina; grandchildren, Lisa (Steve) Carlin, Amy (Jake) Irwin, Sara (Brad) Swartele, Jennifer Muniak, Elizabeth Muniak, James Jr. (Tina) Chmielewski, John (Kelly) Chmielewski, Sarah (Matthew) Huber, Jessica (Nolan) Calhoun, Kyle Meeker, Matthew Altman, Kimberly (Peter) Schultz and Joseph Altman; seven great-grandchildren; sister-in-law, Holly Frank; and several nieces and nephews.
Relatives and friends called from 1 to 4 p.m. Sunday Sept. 4 at Buranich Funeral Home, 5431 W. Genesee St., Camillus. Rev. Gary Ferner officiated in a memorial service at 10:30 a.m. Monday Sept. 5 in Fairmount Community Church. Contributions may be made in Les' memory to Fairmount Community Church United Church of Christ Memorial Fund, 4801 W. Genesee St., Syracuse, NY 13219 or to one's favorite charity. Please share condolences at buranichfuneralhome.com.