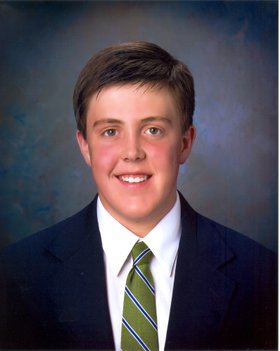 Matthew W. Murphy,
unknown - October 20, 2011
Matthew W. Murphy, 19, of Manlius, died Thursday, Oct. 20, 2011, in the comfort of his immediate family at Golisano Children's Hospital in Syracuse. He was born in Syracuse on March 31, 1992, the son of Kevin and Carol (Robinson) Murphy. Matthew graduated with honors from Fayetteville-Manlius High School in June, 2010, and was recipient of the Triple "C" Award for Commitment, Character and Courage from NYS Attorney General, A. Coumo. He was a student at Newhouse School of Communications at Syracuse University. He was employed for four years at Cavalry Golf Club in Manlius as a bag room staffer and pro shop attendant, and was also owner/operator of Matt Murphy Designs. He was a Eucharistic Minister and member of St. Ann's Parish in Manlius.
Matt is survived by his loving mother and father whom he cherished; his brother and best friend, Christopher, whom he admired and loved beyond words; his grandparents, Joseph V. and Dorothy Murphy of Fayetteville, Ann R. Robinson of Pinehurst, NC; and many aunts, uncles, and cousins. He was predeceased by his grandfather Charles M. Robinson.
Matthew was and will continue to be an inspiration to everyone he knew and touched. He will miss his favorite team, the Boston Red Sox.
Funeral Services: 10 a.m. Tuesday, Oct. 25, at Immaculate Conception Church in Fayetteville, with burial to follow in St. Mary's Cemetery in DeWitt. Calling hours: 4 to 8 p.m. Monday, Oct. 24, at the church, 400 Salt Springs St., Fayetteville. For directions, florists, or a guestbook, please visit scheppfamily.com. Contributions may be made in honor of Matthew W. Murphy & family to Golisano Children's Hospital, 750 East Adams St., Syracuse, NY 13210.