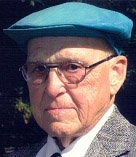 James D. Jackson
unknown - October 18, 2011
Reverend James D Jackson passed away peacefully Oct. 18, 2011, at home surrounded by his loving family. Born in Greene, NY, Pastor Jim was faithful servant through out CNY serving 20-plus years at Emerson UCC and the Port Byron Free Methodist Church; he was the Cayuga County Jail Chaplin, and enjoyed ministering to people in nursing homes and hospitals throughout the area. Jim was a long time volunteer at the Syracuse Rescue Mission.
Prior his service as a pastor Jim was employed for 20 years as an engineer at McQuay International. Jim was a WWII Army veteran contributing to the development of early radar guidance systems.
Jim graduated from Clarkson College with an Electrical Engineering degree in 1945.
Jim was married to Doris Helen Fenn in 1947. Doris passed away in 1956 and Jim married Marie Dorer in 1970. Jim and Doris had four children, Stephen H (Sharon), Andrew C (Mary), Carolyn Jackson and Sue Ellen Jackson Harris (Chuck). All of whom survive him. Jim had a significant influence in the lives of his 15 grand children and 14 great grand children as well as many other people with whom he shared his life.
Celebration of life service: 1 p.m. Nov. 6 at the Skaneateles United Methodist Church, followed by a reception at the church. In lieu of flowers contributions may be made to the Rescue Mission, 120 Gifford Street Syracuse NY 13202. To send condolences visit: robertdgrayfuneralhome.com.