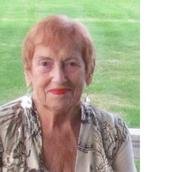 Theresa Ares
February 5, 1931 - October 12, 2011
Theresa Ares, 80, of DeWitt, formerly of Manlius, passed away Wednesday, Oct. 12, 2011. Born in Newark, NJ, on Feb. 5, 1931, Terry spent 57 years as the wife and life partner of husband Manuel Ares, loving mother of five, grandmother of 15 and great-grandmother of one.
A founder and charter member of the A Better Chance House in Manlius and a library aide in the Fayetteville-Manlius High School and the Manlius Library. She devoted her life to raising her children and providing educational opportunities for those less fortunate. An amazing cook of Spanish and Italian cuisine, surrogate mom to countless of her children's friends, and a source of wisdom to all, she brought comfort, happiness and joy to everyone whose life she touched.
Terry is survived by her husband, Manny; sisters Ann Quinn and Rita Gargano; son Manuel Jr. (Haller) their children Dominic, Gabriel, and Amanda; son Michael (Diane) their children Jeffrey, Tyler, Katelyn, Samantha, Jackie and Chelsea; son Paul; daughter Juanita (Matthew) their children James, Patrick and Jessica, great grandaughter Kalia; daughter Marcela (Eric) their children Adam, Grace and Hana. She is predeceased by her sister, Hope Cernades.
Funeral Services were held at Holy Cross Church on Oct. 15. Burial was in St. Mary's Cemetery. Arrangements were by Newell-Fay Funeral Home. Donations can be made, in Theresa's memory, to A Better Chance House, PO Box 355, Manlius NY 13104.