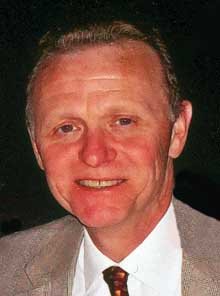 David J. Sadowski
April 27, 1951 - October 9, 2011
David J. Sadowski, 60, of Syracuse, passed away Sunday, Oct. 9, 2011, as a result from injuries sustained from a motorcycle accident in the town of Winfield. A lifetime resident of Syracuse, he was born on Friday, April 27, 1951, and was a 1969 graduate of West Genesee High School. Growing up in Camillus he forged many great friendships that endure today.
David graduated from SUNY Oneonta and earned his law degree from Syracuse University School of Law. Always putting others before himself, he made it his life's mission to help others. He was always willing to listen and offer kind words and counsel.
David began his distinguished law career in 1979 and worked in private practice, Onondaga County Family Court and as law clerk for the Syracuse City Court. He loved spending time with his family, traveling, running, canoeing, hiking in the Adirondacks, and bird watching. Over the years he frequently participated in the Utica Boilermaker and other local races. He traveled extensively in the U.S. and the Caribbean. He enjoyed reading and Harley-Davidson motorcycles.
David was also a lifelong fan of SU football, the Rolling Stones and was a member of the Adirondack Mountain Club. After retiring in 2010, he volunteered his time at Carpenter's Brook Fish Hatchery and a number of Adirondack organizations.
David was predeceased by his father, Bernard A. Sadowski on July 25, 2008, whom he greatly loved and respected.
Surviving are his wife of 24 years, the former Lois Meyer; son and daughter-in-law, Aaron and Erin of Syracuse; his mother, Florence Owens Sadowski of Syracuse; brothers and sisters-in-law, Bernard and Deb of Clay, Mark Sadowski and Giselle Turner of Long Island, and Kevin and Gia of Syracuse; grandson, Andrew; and several nieces and nephews.
Relatives and friends called from 1 to 4 p.m. Sunday, Oct. 16, at the Buranich Funeral Home, 5431 W. Genesee St., Camillus. Services will be held at a later date.
In lieu of flowers, contributions may be made in David's memory to The Wild Center, 45 Museum Dr., Tupper Lake, NY 12986; ADK, Development Dept., 814 Goggins Rd., Lake George, NY 12845 (adk.org) or to Carpenter's Brook Fish Hatchery, 1672 Rt. 321, Elbridge, NY 13060.
Please share condolences at buranichfuneralhome.com.