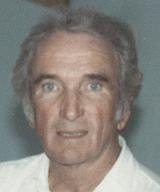 Ralph F. Howe
unknown - October 12, 2011
Ralph F. Howe, 78, of Jordan, died Wednesday, Oct. 12, 2011, in VanDuyn Home & Hospital. Born in Adams, Ralph lived in the Jordan-Elbridge area since 1958. He was an installer for the Lucent Co. (Western Electric Co.) for 31 years before retiring in 1983. Ralph served in the Air Force during the Korean War. He was an avid golfer and loved cars.
Surviving are his wife Patricia Laurence Howe, 3 sons Daniel (Robin) of Auburn, Dale (Noriko) of Japan, and Robert (Lynda) of Brewerton, 2 daughters Terry (Rick) Commando of Port Byron and Debra (Leland) Hill of Bowling Green, FL., 2 sisters Julia Shelmidine of Norfolk, NY and Avis Rodriguez of Baltimore, MD, six grandchildren and four great-grandchildren.
Services: 4 p.m. Saturday, Oct. 15, at the Bush Funeral Home 120 E. Main St. Elbridge with the Rev. James Stone officiating. Calling hours: 2-4 p.m. Saturday at the funeral home.