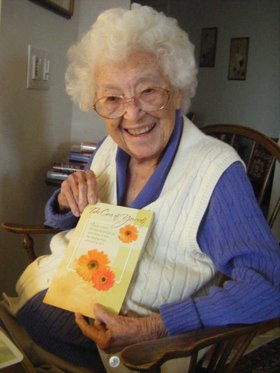 Isabelle B. Cowan
unknown - October 5, 2011
Isabelle B. Cowan, 100, formerly of Camillus, passed away peacefully Wednesday, Oct. 5, 2011, in Lawrenceville, NJ. She was born Oct. 9, 1910, in Watertown, the daughter of Albert and Isabella Bingham. In Watertown she was active in local theater and music productions and in the Stone Street Presbyterian Church. She and her late husband, W. Howard Cowan, moved to Camillus in 1948, but continued to spend summers at their cottage near Dexter. She worked as a secretary in Lafayette Elementary School and West Genesee High School, retiring in 1968. Retirement activities included school and hospital volunteer in Syracuse and Florida. She was active in the Salvation Army Auxiliary, Church Woman United, and Camillus United Methodist Church.
She is survived by three daughters and their families: Judith and Ross Chaimson of Spotsylvania, VA; Polly and Donald Little of Lawrenceville, NJ; Sarah Cowan and Alice Krause of NYC; seven grandchildren and seven great-grandchildren.
A memorial service: 11:30 a.m. on Friday, Oct. 21, at the Camillus United Methodist Church. Burial will be in Maplewood Cemetery, Camillus. Arrangements by B.L. Bush & Sons Funeral Home, Camillus.
In lieu of flowers, contributions may be made to the Camillus First United Methodist Church or Habitat for Humanity. Please sign the guestbook at blbush.com.