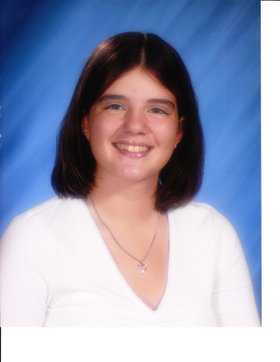 Katie J. Kiesa
unknown - October 9, 2011
Katie J. Kiesa, 23, of Liverpool, passed away peacefully on Sunday Oct. 9, 2011, ending her longterm battle with heart disease which arose after surviving childhood cancer. Katie attended Liverpool High School, and graduated in 2006 from Cicero-North Syracuse High School. She received the Presidential Award for straight As in elementary school. She was an avid bowler and participated in the Saturday Junior League at Flamingo Bowling Center. Katie was a lover of theater and attended many shows both on and off of Broadway. She also had a great passion to perform on stage and she demonstrated her talents in numerous productions with the Salt City Center for Performing Arts. Katie attended OCM BOCES for Culinary Arts and was the local president of DECA-Skills USA. She was the state Delegate from New York for DECA National Skills-USA. Most of all she enjoyed music, and spending time with family and friends.
Surviving to cherish her memory are her mother and stepfather, Kathleen (Stephen) Kiesa-Sehnert of Liverpool; father and stepmother, Stephen (Karen) Kiesa of Liverpool; brother, Stephen Kiesa Jr. of Utica and many aunts, uncles and cousins.
Funeral services: 9:15 a.m. Friday Oct. 14 from the Maurer Funeral Home Moyers Corners, and at 10 a.m. in St. John's Church, 8290 Soule Road, Liverpool. Calling hours: 4 to 7 p.m. Thursday Oct. 13 from at the funeral home, 3541 Rt. 31, Baldwinsville. In lieu of flowers, contributions in Katie's memory may be made to the Golisano Children's Hospital at Upstate, One Children's Circle, Syracuse, NY 13210, or to the Make-A-Wish Foundation of CNY, 5005 Campuswood Drive, East Syracuse, NY 13057.