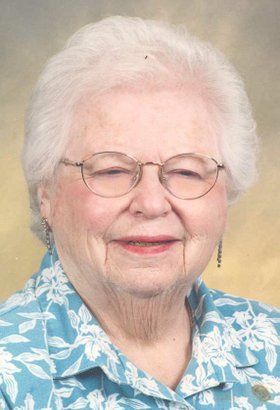 Beverly J. Mandigo
October 25, 1928 - October 7, 2011
Beverly J. Mandigo, 82, of Camillus, passed away on Friday Oct. 7, 2011, at Loretto. Born in Syracuse on Thursday Oct. 25, 1928, she was the daughter of Oscar Lawrence Quist and Mildred Pearl Goff Quist. She lived in Camillus since 1954 and was a 1945 graduate of Onondaga Valley Academy. A charter member of St. Michael's Lutheran Church, Beverly also was a member of the Service Guild and the Women's Evangelical Lutheran Christian Association. For many years, she was an election inspector for the Town of Camillus.
Beverly was predeceased by her husband, Robert "Whitey" in 1999; son, Gary in 2005; and grandson, Scott in 1999.
Surviving are her daughters, Penny Smith of Baldwinsville and Pamela Mandigo of San Diego, California; sons, Alan of Tacoma, Washington, Craig of Encinitas, California, Kirk of Glendale, Wyoming, and Robert and Timothy, both of Littleton, Colorado; honorary daughter, Dorie Messina of Camillus; sister, Doris Herrick of Framingham, Massachusetts; brother, John Quist of Liverpool; many grandchildren and great-grandchildren.
Relatives and friends called from noon to 1 p.m. Tuesday Oct. 11 at the Buranich Funeral Home, 5431 W. Genesee St., Camillus. A memorial service followed at 1 p.m. at the funeral home with Rev. Janet Fechner-Pelletier officiating. Beverly was laid to rest in Onondaga County Veterans Memorial Cemetery.
In lieu of flowers, contributions may be made to Alzheimer's Association of Central New York, 441 W. Kirkpatrick St., Syracuse, NY 13204. Please share condolences at buranichfuneralhome.com.