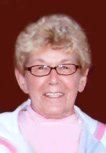 Joan E. Speach
May 11, 1934 - September 30, 2011
Joan E. Kleintop Speach, 77, of Camillus, passed away Friday Sept. 30, 2011, at University Hospital. Born in Slatington, Pa, on Friday May 11, 1934, she was the daughter of Randolph F. Kleintop and Ellen Jane Reinard Kleintop. She lived in the Syracuse area most of her life.
Joan graduated from Solvay High School in 1952 and attended Syracuse University. She retired in 2004 from the Bon-Ton in Camillus and previously was an administrator with Harry L. Cook. A devoted Republican, she worked the polls for the Republican Committee for many years. She was a member of St. Luke's Episcopal Church. She was devoted to her family and loved babysitting her grandchildren. She was an avid SU basketball fan and enjoyed going to casinos.
Joan was predeceased by her sister, Barbara White.
Surviving are her husband of 55 years, John Neal; daughters and sons-in-law, Jacqueline and Benny DiMarco of Clay, Amy and Kevin McNamara and Tricia and Daniel Kemp, all of Camillus; sister, Nancy Kleintop of Rochester; grandchildren, John, Danny, Elyse, Marissa, Karli and Ryan; and several nieces, nephews and cousins.
Relatives and friends called from 4 to 7 p.m. Monday Oct. 3 at Buranich Funeral Home, 5431 W. Genesee St., Camillus. Funeral services were at 10 a.m. Tuesday Oct. 4 in St. Luke's Episcopal Church with The Very Rev. Craig R. Swan officiating. Joan was laid to rest in Greenlawn Cemetery, Warners. The family invited everyone to join them at McNamara's Pub, 5600 Newport Rd., Camillus, following the burial. In lieu of flowers, contributions may be made to St. Luke's Episcopal Church, 5402 W. Genesee St., P.O. Box 91, Camillus, NY 13031 or to Upstate Cancer Campaign, 750 E. Adams St., CAB 326, Syracuse, NY 13210. Please view the Joan Speach Family Video Tribute and share condolences at buranichfuneralhome.com.